How to Use Bulk Apply and Other Contact Tools
There are several Tools available to help make using Contacts easier.

---
Bulk Add Contact Tags
A useful tool when applying obligations or creating statements is the ability to "filter" your Contacts using Tags.
After selecting this tool you will again have options to pre-filter your contacts by existing tags or activity account, then you can either "Select All" contacts displayed, or select/de-select specific contacts as needed, and either add one of your existing tags to all of them or add a brand new tag to all the selected contacts. Once you have selected or created the tag, click Add Contact Tags.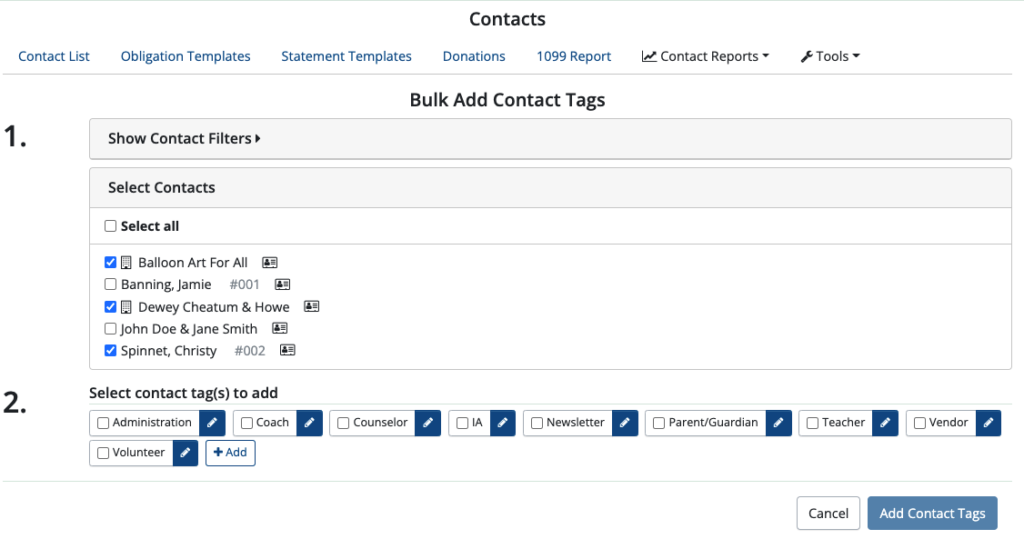 ---
Bulk Activity Account Setup
Once you've entered your Contacts, you can very easily assign Activity Accounts to each one. Then, using Tags, you can send out different Activity Account Statements to different groups of Contacts. You would then click on Select All (you can always de-select any contact(s) that you want).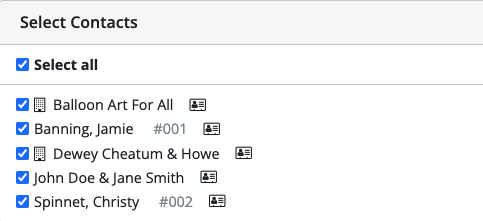 You will then choose which Activity Account you want to add by clicking on the box.

Then click Create Activity Accounts.

You have now put Activity Accounts on the selected Contacts.
---
Bulk Apply Obligations
Now that you have your Contacts in and have assigned Activity Accounts to your Contacts, it's time to Bulk Apply Obligations. (See Making Obligation Templates article.)
In this example we will bulk apply Band Student Annual Dues to Band Contacts. You've already put Member Activity Accounts on your selected Contacts, now we will attach that obligation to those Member Activity Accounts for Contacts with the "Band Student" tag.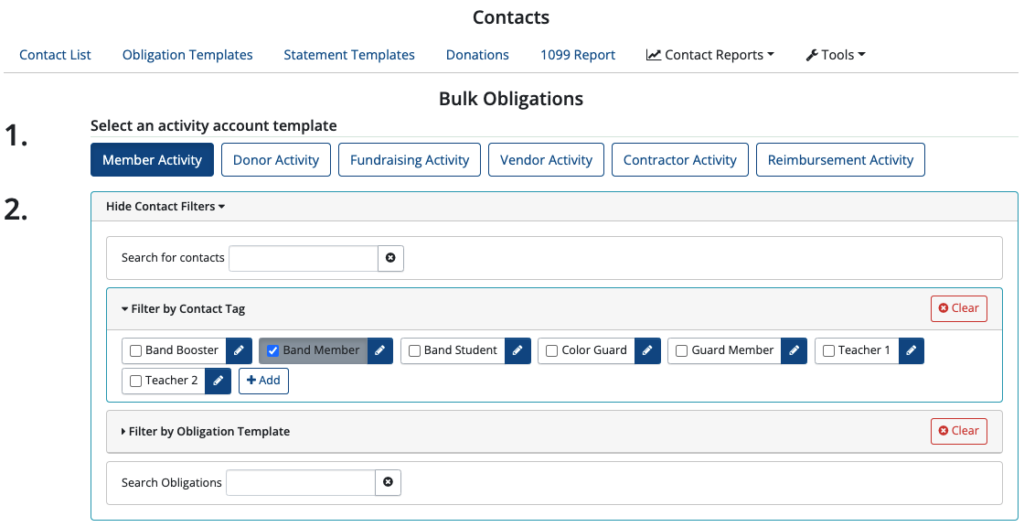 Just like you did previously, you will Select All, of the contacts that come up, then de-select any contact(s) you don't want to include.

Next you will see Step 3 where you will select the Obligation Template you want to apply. Using the drop-down arrow next to Obligation Template, choose the template you want to use and once the details appear, click Apply. The number that appears in the Apply button refers to the number of Contacts receiving the Obligation.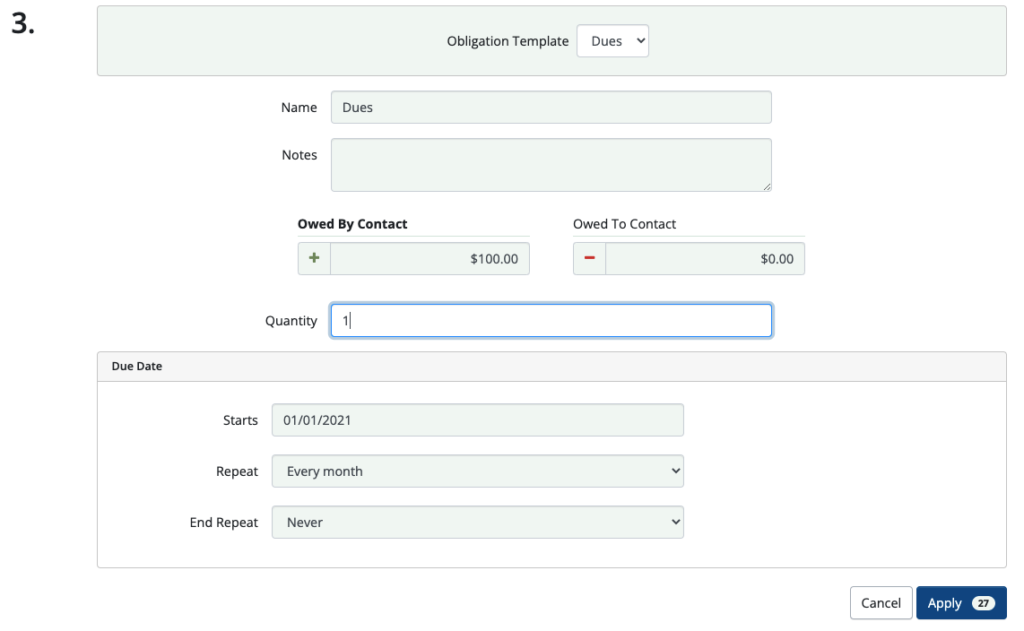 ---
Bulk Email & Bulk Download Statements
Once you have your Contacts entered, have Activity Accounts set up, and you've applied Obligations to their accounts, it's time to generate and send out Statements. You can, of course, do that individually, Contact-by-Contact, or you can do this in bulk.
If you set your Contact information up to include an email address you can send the statements out via email using Bulk Email Statements. If you have a group of Contacts that you need to mail or physically give a Statement to, you can use Bulk Download Statements.
Select your preferred statement option (Download or Email) from the Tools menu.
Select the Activity Account associated with the Obligation, then select a Date Range for the statement period. Once again, if needed, you can filter your Contacts by contact tags.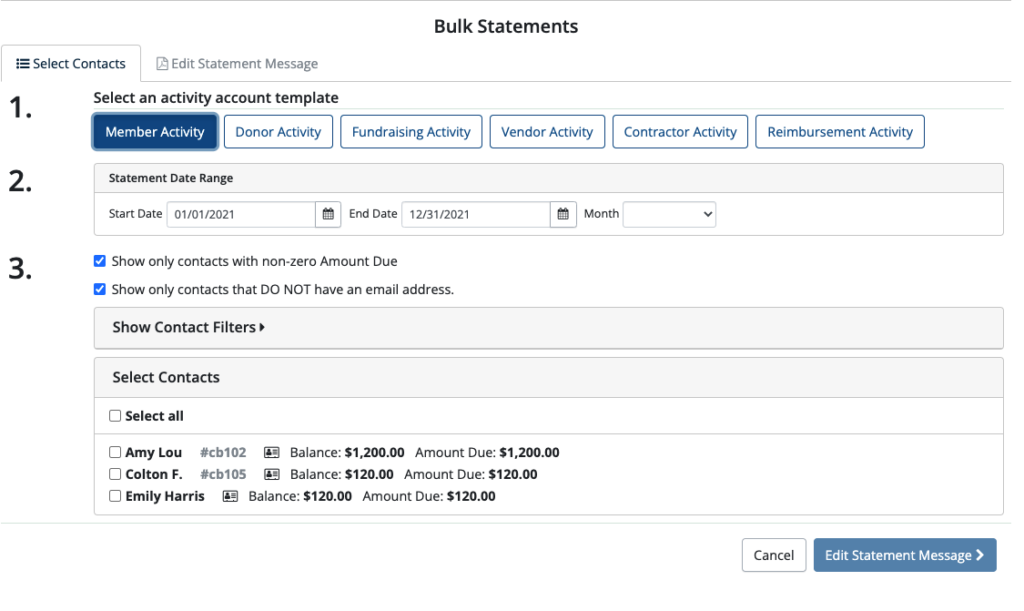 Click Edit Statement Message.
If you have created a statement template that you want to use, you can select it by clicking on the Default Template box and your list of templates that you have created will appear.

Select the template you wish to use and click on the Use Template button to the right.

If you are not using a template you can make changes to the Default template by clicking on the Edit Statement Message Tab.
When you're happy with your message click Save & Send or Save & Download PDF. This will generate your statement emails or download a PDF of each Contact's statement that you've chosen on your computer where you can open the PDF and Print.
**Note: Emails will come from the email used when setting up your MoneyMinder account and you will have the option of receiving a copy of each email to that address. Undeliverable emails will appear in your MoneyMinder Inbox.