Click the Contacts icon on the toolbar.

---
Add a contact:
Click Add Contact to add an individual or organization.

---
Fill out the pertinent information. You must enter at least a last name or company name.

---
.
Add Contact Tags to individual contacts
A useful tool when applying obligations or creating statements is the ability to "filter" your Contacts using Tags.
Add tags to individual contacts by clicking +Add in the Contact Tags section.

---
Click Save when you are done adding a contact.
---
Bulk Add Contact Tags
You can also add Contact Tags to multiple contacts at once using the Bulk Add Contact Tags… tool.
In Contacts, click on Tools and a drop down menu will appear.
Choose Bulk Add Contact Tags….

---
Click Select all (you can deselect any contacts you don't want to include)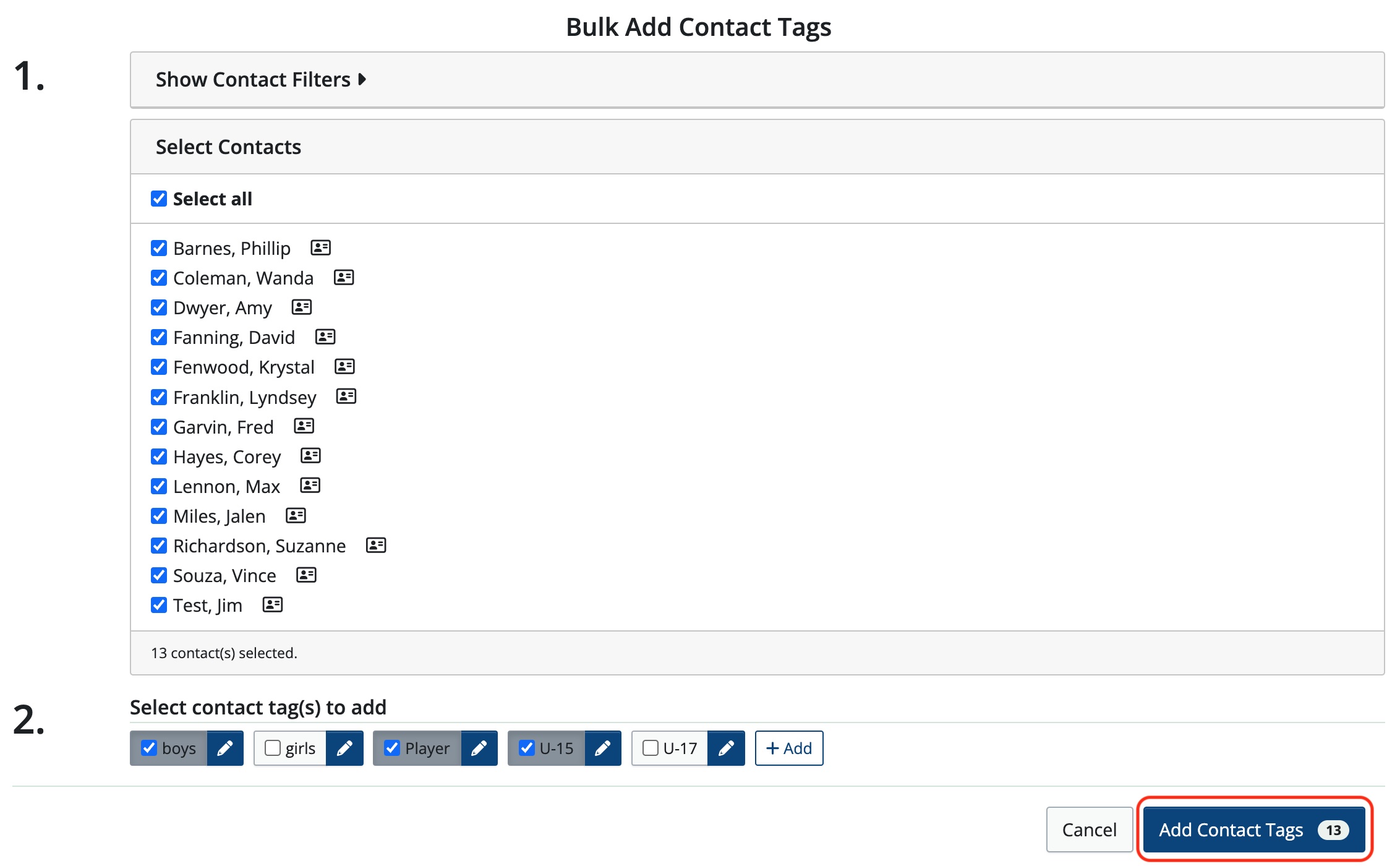 Select the contact tag(s) you would like to add or click +Add to add new tags.
Then click Add Contact Tags. (The number that appears in the Add Contact Tags button refers to the number of contacts that tags are being added to.)
---
You can add Activity Accounts when you add contacts or at a later time. Click here for: Setting up Activity Accounts for Contacts – MoneyMinder
---
Search for a contact:
Search for a contact that exists in your list by typing their name or a portion of their name in the Search field:

---
Once you've edited and made changes to a contact, click:
Save to store this contact.
Cancel to return to the main People window without saving this contact.
---
Note: Do you have a list of contacts that you would like MoneyMinder to import for you? Click here: Guidelines for importing your Contact list – MoneyMinder
---