Save time and get back to your mission.
Cover your bases as nonprofit treasurer with budgeting, bookkeeping and everything in between. MoneyMinder PRO is online accounting software designed for volunteer-run nonprofits like PTAs, PTOs, HOAs, Churches, Scouts, Boosters, Teams, Clubs and more.
Easy to Learn. Easy to Use.
Access your account online, anywhere, anytime. Ensure accountability and easy transition between members. Keep your data secure and backed up daily.
MONEYMINDER PRO
$159 / year
Add BANK INTEGRATION
$39 / year
Connect your bank account(s) to MoneyMinder PRO to directly download transactions, saving you time and effort. You just review the transactions to ensure they are properly categorized and fill out any required fields.
Call or email us to turn on Bank Integration:
(866) 346-4300
support@moneyminder.com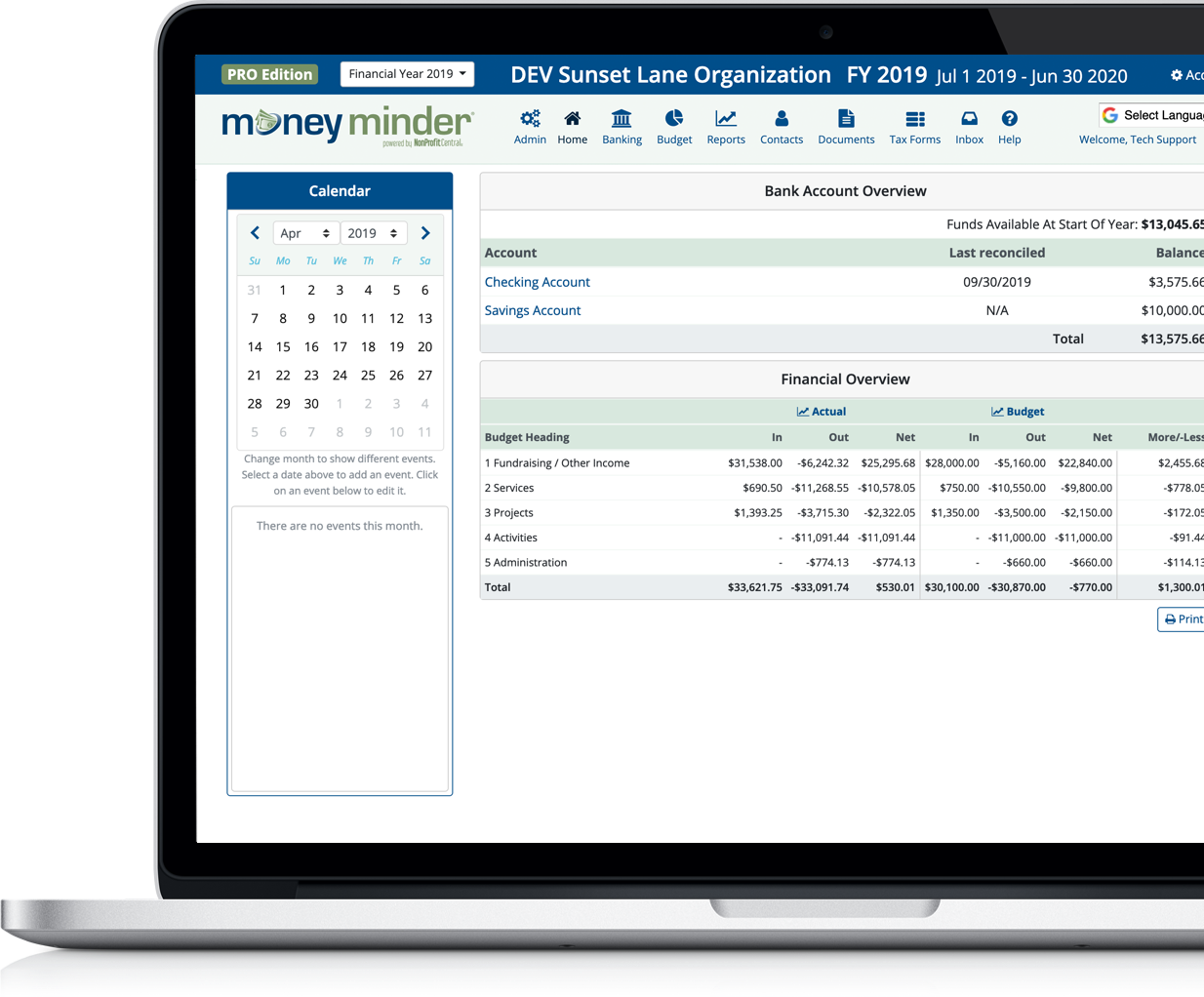 Make Bookeeping Easy & Fun With These Features 
MoneyMinder is designed for people like you who are committed to a cause and understand the need for financial accuracy. Spend more time volunteering and less time managing your books.
Bank registers, deposits, withdrawals, transfers and reconciliation.
MoneyMinder might just be the world's easiest bookkeeping software to learn. It is also highly recommended by accountants and CPAs coast to coast.
Track Funds
Customize headers & categories
Reconcile bank accounts
Connect to your bank account(s)
Easy-to-read one-click reports
I just came from my accountant's office to finish the filing of last year's taxes. She was SO pleased with the way you guys have your forms and end of the month sheets. She said it was amazing and that she would start telling other PTO's that she works with all about you guys. I also wanted to tell you how user friendly your program is and how much easier my life has been since I started using it.
- Jenn Moseley
Record & track donations and volunteer activities/hours.
Track volunteer hours in relationship to events
Report by volunteer and/or event
Evaluate events based on volunteer effort/time
Track donations
Send donation acknowledgements
Yours is one of the best softwares I have used for these volunteer entities for schools and sports. I will always use it when I can. Thanks for a great product and really good support.
- Denise Cossey
Create and analyze a budget based on your unique categories & activities.
Create a custom budget or select one of our templates
Change an existing budget
Compare budget to actual
Set budget goals
My overall experience with MoneyMinder is simply awesome. It was a wonderful experience and the support is so friendly and helpful.
- SurveyMonkey anonymous response
Central repository of commonly used forms, records, templates and documents.
Organize & store files and receipts
Archive important documents for quick reference
Share files without emailing
Utilize our document library
MoneyMinder "saved" me as an incoming volunteer treasurer. I was literally handed a huge box (read: mess) and told "this job is about an hour a week..." Wrong. I easily spent 10 hours the FIRST WEEK trying to untangle the mess that was our books, checking, reports, payroll and homemade spreadsheets handed down from years of previous treasurers. Long story short, MoneyMinder was mentioned at one of our board-level trainings and I signed up the next day. Best money I spent as treasurer over my two-year term and we're very happy to keep using the software. We don't have to reinvent the wheel with every new person to the job! Thanks for a great resource, keep up the good work!
- SurveyMonkey anonymous response
Keep track of payments from contacts and easily email statements.
Track dues and obligations
Email statements
Manage member information
Record membership fees
Allow for different membership levels
I went from trying to keep track of about 30 separate activity accounts on paper to using MoneyMinder. I am in love with it and would totally marry it, but my husband would get jealous.
- SurveyMonkey anonymous response
Your financial year-end, made easy.
Run totals for your 990EZ
Conduct a do-it-yourself audit or provide access for your auditor/committee
Print annual reports and audit reports
We are glad to be continuing with your software. It was a big push after our annual audit and this year we passed with flying colors and it took our auditor about a third of the time - all due to your amazing software. It is easy to use and easy to figure out things we want to do. I look forward to a long relationship with our organizations.
- Steven Weigley
Allow access at different levels for anyone who needs it.
Unlimited users
Different permissions
Cloud based
Access anytime, anywhere
Our books were a mess before Money Minder, I have been able to get them cleaned up, reconciled and been able to pull comprehensive reports. I am very happy, and so is our PTA.
- Anonymous
Why You'll Love MoneyMinder PRO
We Speak Volunteer
Every one of our customer service reps volunteer in their own community. We know what it's like to juggle family and work and causes that matter to you.
You Look Good
Numbers that add up. Reports that your membership can understand and trust. Stress-free audits.
We've Got Your Back
When you need help or it's time to transition, you can easily walk away knowing that you or your incoming treasurer can call on us for help with the transition. Easy.
Here to Help Guide You Along the Way
Visit our treasurer software knowledgebase for easy bookkeeping tutorials and more.
Simplify your life as a volunteer. Our blog is filled with tips, templates and inspiration.
Try MoneyMinder Free for 30 Days
See how easy it is to use. No obligation. No credit card required.