Be Prepared to Give the Treasurer's Report at Your Next Board Meeting
Whether you're a new treasurer-elect or a seasoned veteran, it can be nerve-wracking to give the treasurer's report in front of your nonprofit board.
For your Nonprofit Treasurer's Report, you'll want to first make sure all of your transactions are entered to make your report complete. Then, print some copies to pass out, or opt for a digital review. Finally, be prepared to give a short oral report and answer questions at the board meeting.
Fill out the form below to access our full, detailed guide to giving a nonprofit treasurer's report. In it, you'll find:
Step-by-Step Guide to Giving a Treasurer's Report (Doc)
Sample Treasurer's Report (PDF)
Sample Script for Oral Treasurer's Report (Doc)
Audio File of an Oral Treasurer's Report (M4a)
Download the Guide to Giving a Treasurer's Report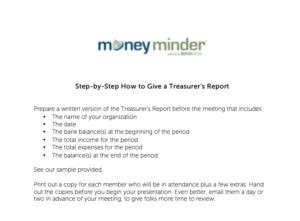 Try MoneyMinder PRO, Free for 30 Days
See how easy it is to use. No obligation. No credit card required.