Balancing Nonprofit Books 101
Reconciling a bank account, otherwise known as balancing an account, is something everyone should do. There are a few reasons that this straightforward procedure is very important, especially for nonprofits of all size. Nonprofit bank reconciliation keeps your financials up-to-date, it protects against fraud and it provides a clear picture of how much money you have. Whether you are a large nonprofit organization or simply curious about your own personal account, you should know how much money you have at a given time.
Nonprofit Central—makers of MoneyMinder Software—cares about your success. Download our Nonprofit Bank Reconciliation Guide for valuable tips on reconciling your checking account, starting with the reasons why you should.
Reasons To Reconcile
How Often
Step-By-Step Instructions
Common Errors
A Sample Reconciliation Report
Download the Nonprofit Bank Reconciliation Guide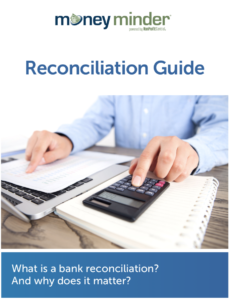 Try MoneyMinder Free for 30 Days
See how easy it is to use. No obligation. No credit card required.