Choosing a Nonprofit Bank
As a non-profit organization, you can expect a lot from your bank. Assuming your account is in good standing and you follow best practices, you should be able to find a bank that will give you great service and not charge you at all for it! Following are services that many of our groups look for. Identify the services that are important to you, and then look for a bank that will provide them free of charge. Read More
Does My Nonprofit Need Insurance?
At NonProfit Central, we strongly encourage organizations protect themselves with insurance. As a matter of fact, we go so far as to say, "RUN" from organizations that don't feel insurance is important. You may believe that your nonprofit group can't afford insurance, but if something like this happens to you, and you are not adequately insured, your board members could be personally held financially responsible. Read More
Types of Nonprofit Insurance
There are several types of nonprofit insurance you might consider, including General Liability, Fidelity Bond, and Officer Coverage.  To learn more about the different types of nonprofit insurance, Read More.
Download the Fraudbusters eBook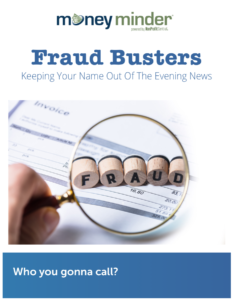 Try MoneyMinder Free for 30 Days
See how easy it is to use. No obligation. No credit card required.