You may have been given the task of planning a board meeting for your HOA. This may feel like a daunting task but we have a few tips that will help you along the way.
Create An Agenda
Creating an agenda for your meeting is crucial in order to keep your meeting on task. Without an agenda, you run the risk of getting off topic and going over time. Here's an example of things you may want to include:
Old Business

Have old issues been resolved? If not, what is the plan to fix them?

New Business

What changes or events are coming in the future? What does the board need to know?

Open Forum

Leave room toward the end of your agenda for members to ask questions. This will encourage members to save their questions until the end of the meeting rather than interrupting throughout.
Send Out Reminders
What's the purpose of planning a productive meeting if no one attends it? We suggest sending out reminders to your board members a few times before the set date. Consider once at the beginning of the month and once the week of. This allows board members can plan ahead and be prepared with questions or concerns.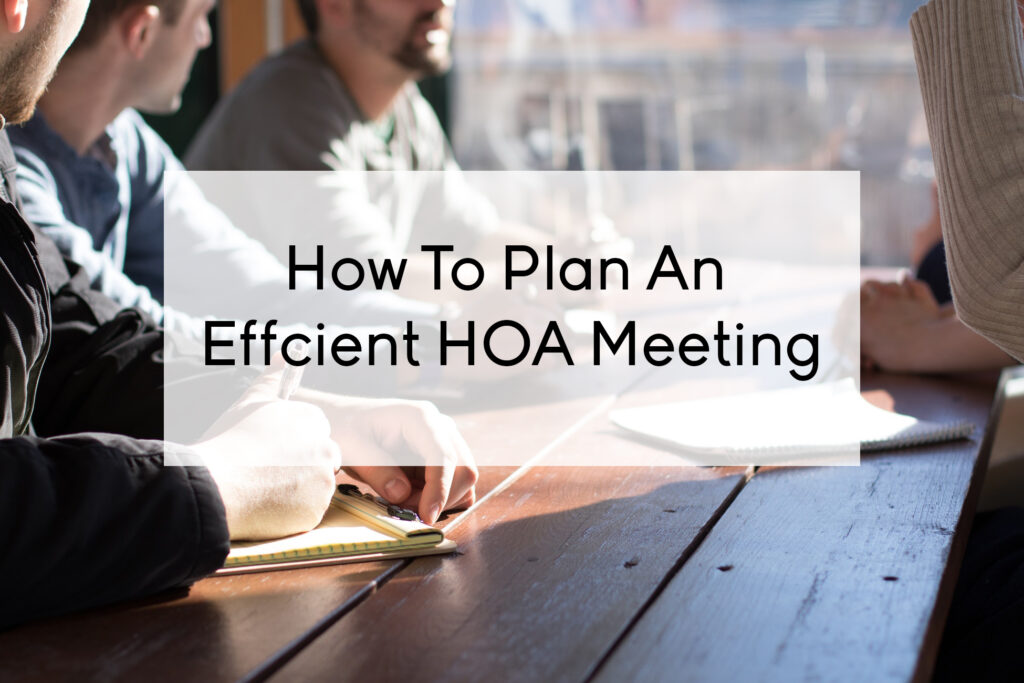 Create Meeting Minutes
Meeting minutes are designed to keep track of what was discussed during the meeting so those who weren't in attendance can keep up. In addition, it's good to have a record of all things discussed so the board can track what progress is made. Designate someone on your board to take detailed but precise notes. Send out the minutes soon after the meeting so they are available to everyone on the board.
Bring Documents
If you will be referencing any of your board's HOA documents during the meeting, you should bring physical copies of those documents with you. Those who need a refresher can review the documents themselves.
Thank The Board
Don't forget to thank the board members for taking the time to attend. If you plan your meeting efficiently your team can get a lot done in an hour or less. Holding HOA board meetings are important for the success of the community. It's the best way to keep everyone in the loop and fix issues in a timely manner.