Whether your booster club supports band, athletics or something else, there is no doubt about your important role in providing financial and moral support for students and staff at your school. By raising funds for these activities, you are directly helping young people by providing an outlet for creativity, physical activity and social interaction — giving students a unique opportunity to explore all kinds of interests and develop new skills in a supportive environment.
Of course, you already know all of that. The hard part about booster club management is raising enough funds to keep these activities rolling without a financial burden on families. Equipment, uniforms, transportation, supplies, food and coach fees can really add up, especially with inflation today.
Sure, you've tried all of the fundraising ideas. Raffle tickets, concession stands, you name it. Are you still feeling like you're coming up short and in need of something that gives you more bang for your time and monetary investment? It might be time to think about business partnerships for your booster club.
Booster Club Corporate, Restaurant & Business Partnerships
You may feel nervous about the prospect of finding businesses to support your booster club. After all, it's hard to contact someone and ask them to part with their hard-earned money. But guess what? Booster Club business partnerships are mutually beneficial for both groups. With a little planning, a business can not only gain visibility, brand recognition and increased sales, but also build a relationship with the entire school community.
So what are some ways that boosters can work with local businesses to raise funds? Here are some ideas to get your creative juices flowing.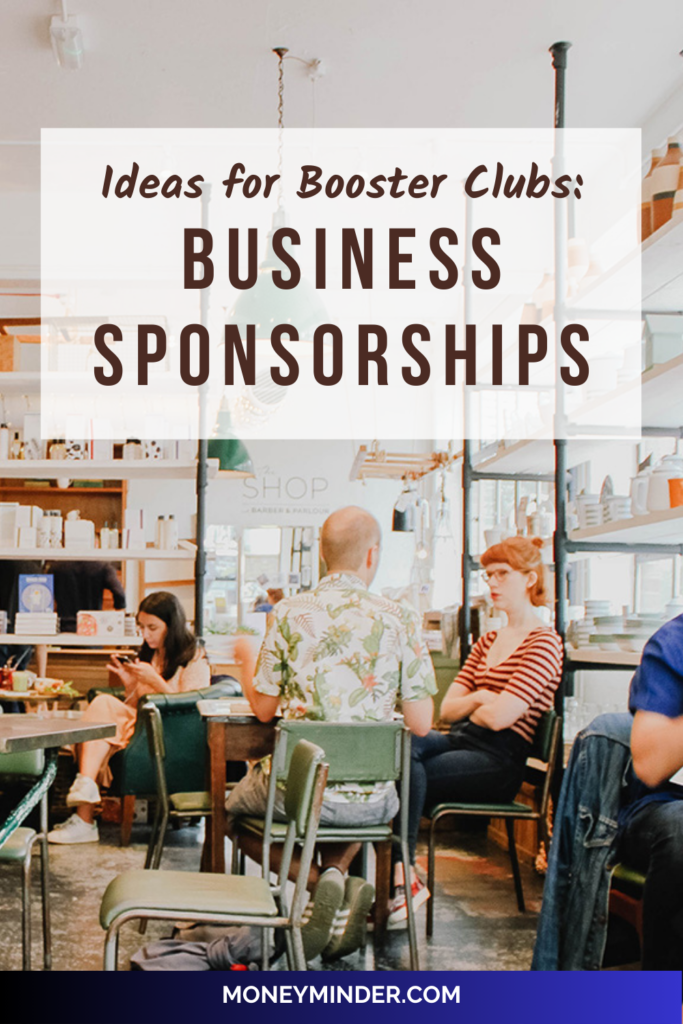 Sponsorship — There are many ways to structure a business sponsorship of your booster club. Consider what is available to be sponsored (an event, a sign at your football stadium, a patch on your uniforms, or a logo on a playbill). Decide what it's worth to you and then see if businesses are interested in paying for this type of exposure.
Event Space Donation — Another way for a local business to show support is to open up its space for your next fundraising event. Event space can be costly, so this greatly benefits your group.
Item Contribution — Whether it's the local hardware store providing some goods for your silent auction or the music shop giving access to instruments for the Spring musical, in-kind sponsorship is a great way for businesses to sponsor your booster without having to outlay a bunch of cash.
Co-Promotion — Maybe the best way to structure a booster-business partnership is through promotion. In other words, you share about the business to your group and they share your next fundraiser to their customers.
Sales Percentage — A popular way for a company to show some love is to dedicate a day or evening to your group. For example, a local restaurant could dedicate 10% of profits on a particular evening. Be sure to invite all of your booster families.
These are just a few ways you could structure a business package to help your booster club. One additional thing to keep in mind as you approach businesses to help your group: be flexible. While we all want to reach for the stars, it's a good idea to create different sponsorship packages so that companies of all sizes can help.