Ah, the wonderful concession stand: arming kids and adults alike with Cheetos® and Snickers® for decades. Whether you have been tasked with stocking your concession stand for the local theater production or for the football season, one thing's for sure. People love to support groups by filling their bellies!
Many times, a concession stand is taken on by a group looking to fundraise for a cause. This could be a Booster Club, Sports Team, Parent Group or other all-volunteer organization. Concession stands and bake sales can be excellent fundraisers to help fuel a group's mission. But, does it always have to be junk food?
The answer is no. There are many healthy concession stand ideas that contain less sugar and more nutrition than their junk-food counterparts. Here are some healthy options to consider.
30 Healthy Concession Stand Items for Fundraisers
1. Fruit | While some fruit is subject to bruising and does not travel well, others — such as apples, oranges and grapes — are easy to eat with your hands. We recommend pre-washing your fruit and picking items like grapes so there are no vines to deal with.
2. Yogurt | High in protein and good for digestive health, what's not to love about yogurt? For a on-the-go option, try Simply Gogurt from the freezer for a yummy treat.
3. Pretzels and Hummus | Packed with vitamins and minerals, hummus is an excellent snack choice. Watch out for sodium levels on the pretzels, but this is an excellent alternative to salty potato chips.
4. Carrots and Ranch | An excellent way to get some raw veggies into your daily diet is with sweet, crunchy carrots. Ranch or dill dip adds a nice flavor as you add some calcium and vitamin K to your diet.
5. Hard Boiled Eggs | The "incredible, edible" egg is wonderful when hard-boiled and it comes in its own protective shell as a bonus! Be sure to cook it right so your attendants aren't left picking off tiny pieces stuck to the egg. Here is a favorite recipe for the perfect hard-boiled egg.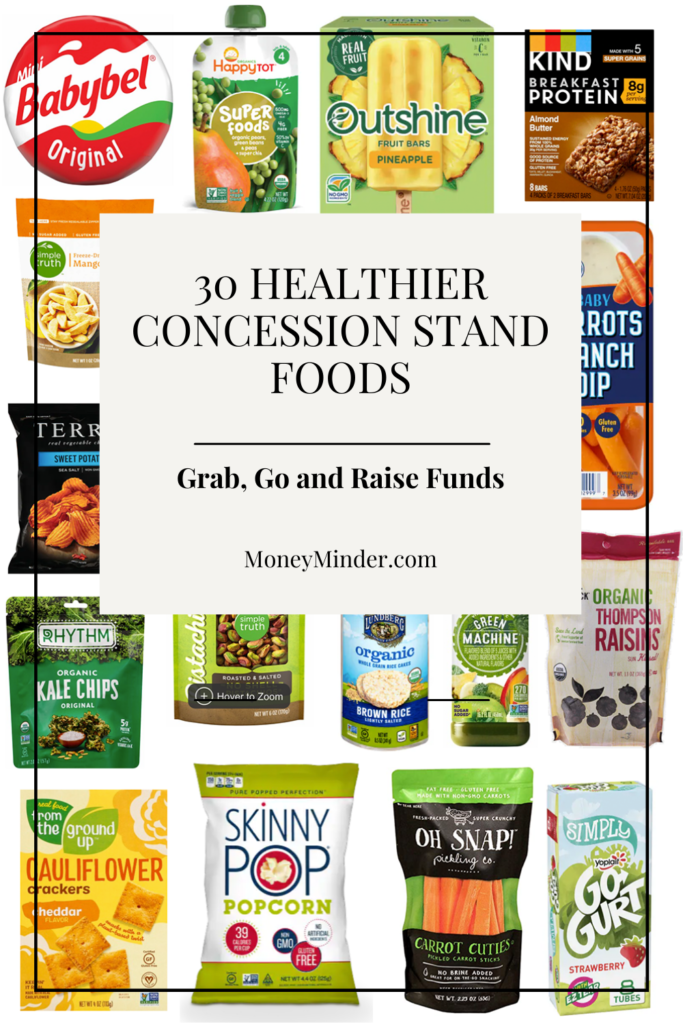 6. Popcorn | Freshly popped popcorn is a timeless concession stand food that is healthy and delicious. If you don't have access to a popcorn maker, try a brand like Smart Pop.
7. Pistachios | Shelled pistachios are fun to eat because it gives you a "job" to do, rather than downing handfuls of them. Just be sure to provide a small tray for disposing of the shells. Of course, unshelled pistachios are nice, too.
8. String Cheese | The nice thing about string cheese is that it's fun to eat and it is a low-calorie way to incorporate dairy into your diet. What's more, the little pre-packaged cheeses last for a while, so if you don't sell out you can use them at your next concession stand event.
9. Protein Bars | This is a great idea as a meal supplement to keep you going. Look for a protein bar with plant-based ingredients and natural sugars, such as those derived from dates.
10. Trail Mix | For those who like a little of this and a little of that, try trail mix. A store-bought pack is perfectly fine but you could also make your own, such as this healthy trail mix recipe that comes together in 5 minutes.
11. Fruit Bars | From fruit leathers to "That's it." bars, these grab-and-go bars do have some fiber, protein and vitamins. Just don't overdo them. Even though the sugars are natural, they are still something to eat in moderation.
12. Granola Bars | Small and portable, there's nothing like a granola bar to keep your tummy from growling. Make sure to review ingredients and added sugars before choosing a granola bar for your healthy snack list.
13. Dried Fruit | Eat your fruit, but without the sticky mess. Favorite dried fruits include mangos, apricots, bananas and apple slices. Similar to fruit bars, dried fruit not only concentrates the nutrients but the sugar, too. So be aware.
14. Jerky | For a high-protein snack look no further than a quality jerky. Just be sure to choose one without nitrates, nitrites, MSG, artificial flavors or excessive amounts of added sodium or sugar.
15. Dried Chickpeas | These tasty morsels are a savory way to get some vitamins, minerals and fiber. Try a variety of flavors and see what your concession patrons like best.
16. Tea | Perfect for a chilly eve under the "Friday night lights", a warm cup of tea can provide antioxidants and hydration.
17. Nut Packs | Roasted and delicious, individual-sized nut packs are great for ensuring you don't overdo it on the nuts. Keep your calories in check with a pack of almonds, pistachios, peanuts or cashews.
18. Fruit Smoothies | If you have access to a freezer and a sink, try making fruit smoothies for your next event. This is a particularly great idea if you have an early morning event that warrants breakfast concessions. If the blender is too much trouble, try a pre-packaged smoothie.
19. Pickled Veggies | Carrots, cucumbers, green beans, asparagus, onions, cauliflower… you name it, it can be pickled! We love the "Oh Snap!" brand as they are individually wrapped and easy to open.
20. Kale Chips | This may not be the first thing you choose on a snack list but anyone who has had crunchy kale chips knows how delicious they can be. Make them or buy them, baked kale chips are an excellent source of vitamin A, iron and a little vitamin C.
21. Pureed Food Packets | Traditionally for babies, these handy food packs are great for "hiding" nutritious foods like beets, chia seeds, sweet potatoes and more in the sweetness of pureed fruit.
22. Babybel Cheese | Who doesn't love a good Babybel? That waxy paper keeps them oh-so-fresh and it's a great little hit of dairy.
23. Celery and Peanut Butter | Whether you make your own snack packs or buy them pre-packaged, celery and peanut butter is an ages-old healthy snack that is crunchy, nutty and delicious. As a fun option, try one of these ants-on-log alternatives.
24. Rice Cakes | Now available in fun flavors like white cheddar and sea salt, rice cakes are light and yummy low-calorie snacks.
25. Sweet Potato Chips | While a dietician may still consider this junk food, sweet potato chips are a great source of vitamin A and pack more fiber than traditional chips.
26. 100% Fruit Juice | Like many of the foods on this list, fruit juice that is all-natural and not from concentrate does provide a source of nutrients like vitamin C, but be aware of the sugar in your overall diet.
27. Fruit Popsicles | Look for an all-fruit bar that does not have much added sugar or artificial colorings and you have a delicious frozen treat.
28. Healthy Crackers | Crackers are an excellent concession stand snack and one that Americans love to grab when they're hungry. Great choices are crackers made with whole grains, seeds, brown rice, cauliflower, lentils and no added sugar.
29. Raisins | Similar to the other dried fruits on this list, raisins are an excellent snack for little hands, especially when they're contained in the little cardboard box we all grew up with.
30. Turkey Wraps | For a concession stand snack that eats like a meal and can be prepared in advance, wrap up some turkey, lettuce, hummus and tomatoes for a filling meal that fits in your hand.
And there you have it, folks. 30 nutritious alternatives to the regularly scheduled junk food concession program you're used to. Tell us, is there a favorite healthy concession stand snack your group has come to love?