Good Donor Communication Breeds More Donors.
If you're reading this, you're probably part of a non-profit organization which relies on donations to make all or part of the entity run. Correspondence with donors and potential donors is a key part of fundraising that should be taken seriously. Use these free sample fundraising forms and letters to double check against those of your organization.
Treasurer's Bin Checklist
Treasurer's Year-End Checklist
Sample Treasurer's Report
Sample Thank-You Letter & Post Card
Sample Budget
Request for Funds Form
Request for Advance Form
Organizational Tips for Treasurers
NSF Check Letter
Meeting Attendance Register
Financial Review Findings Letter
Financial Review Checklist
Document Retention Checklist
Daily Operations Binder Checklist
Critical Documents Binder Checklist
Choosing Insurance Coverage
Check Request Form
Cash Count Worksheet
10-Minute Financial Review Form
How to Choose a Bank
Download 20 Free Sample Fundraising Forms & Letters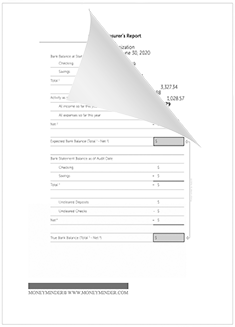 Try MoneyMinder Free for 30 Days
See how easy it is to use. No obligation. No credit card required.