When your small nonprofit receives an NSF (Non-Sufficient Funds) Check, it can not only be an inconvenience to deal with, but it can potentially disrupt your budget. Let's explore how nonprofits can effectively handle NSF checks and minimize the impact on financial stability.
What is an NSF Check?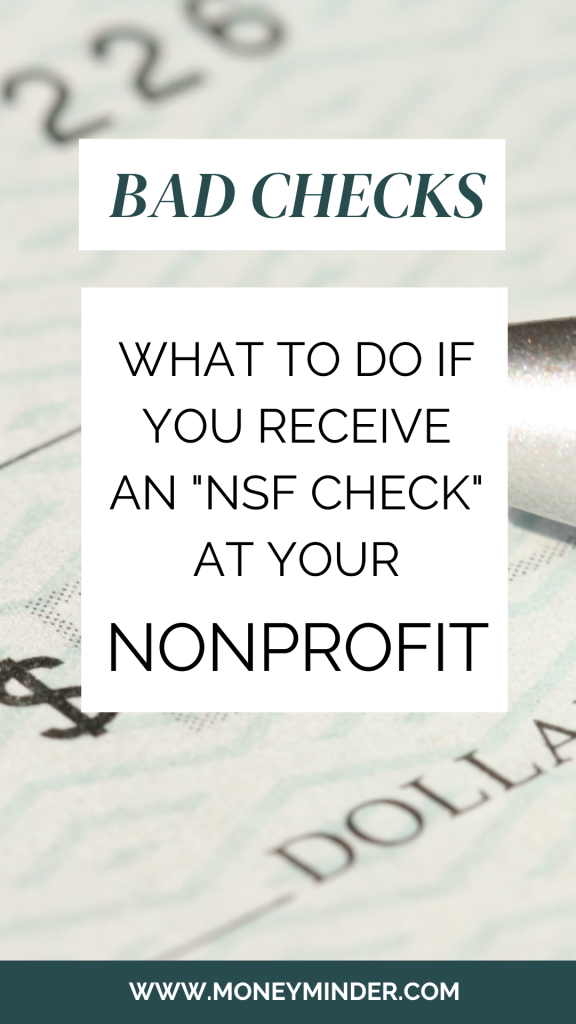 Sometimes referred to as a "bounced" or "bad check", an NSF Check is one that cannot be honored by a bank due to insufficient funds in that account's bank. When your nonprofit receives an NSF check, it means the payment you were expecting won't be received after all. This can create a financial setback, albeit temporary in most cases. It's unfortunate, but it can happen to anyone.
How to Handle NSF Checks Written to Your Nonprofit
Receiving an NSF check can be a setback for a nonprofit. However, with a few simple steps, this setback can be overcome and financial zen will be restored. By taking proactive measures and seeking resolutions, nonprofits can continue their important work and focus on making a positive impact in their communities.
Communicate with the Issuer.
Reach out to the person or group that wrote the check and explain that it came back with the NSF status. Oftentimes, the issuer is willing and open to resolving the issue quickly.
Know Whether Your Bank Charges an NSF Fee.
Many times, banks will charge a fee for processing NSF checks. If this is the case, you should strongly consider requesting for this fee to be reimbursed in addition to the original amount of the check. Send a new bill with this amount included.
Follow-Up and Document.
Maintain accurate records of all communication related to NSF checks. Document your interactions with the issuer and continue to send reminders if you are not made whole by the issuer. We recommend a demand letter after 10 days.
Consider Payment Alternatives.
Sometimes, the NSF may not clear even after resubmission. So you might save both parties time by exploring other methods of payment, like electronic payment processing (Paypal, Square, Venmo), bank transfers or even a credit card payment.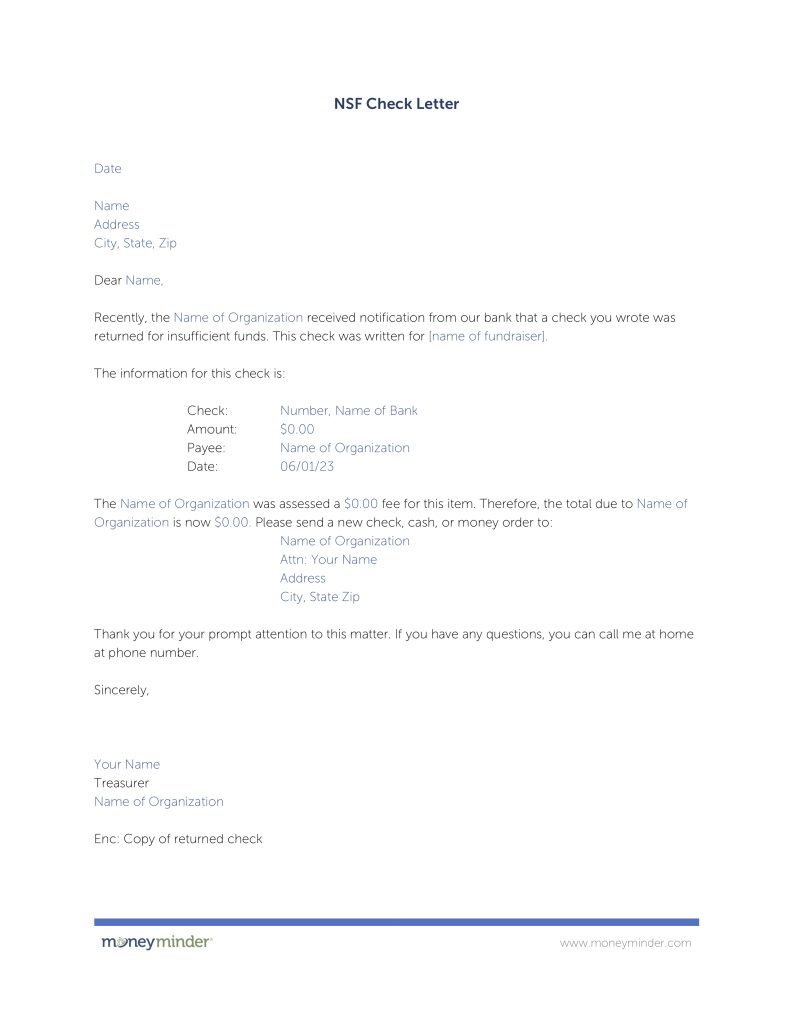 Record the NSF Check in Your Accounting System.
You'll want to make sure to record the NSF activity for accurate reporting in your accounting tool. For MoneyMinder users, we have a help guide on how to do this.
Sample NSF Check Letter
You can use MoneyMinder's sample NSF check letter as a starting point for communicating to the check issuer. Click on the image to download the document, and be sure to customize the items in blue, such as your organization's information, the check details and more. You can find helpful tools for nonprofit treasures in our Sample Forms & Letters download and the Treasurer's Compass guide.