Over our 17 years in business, we have learned a lot about best practices for nonprofit banking. When it comes to dealing with your money-whether cash or cash equivalents-having processes and guidelines in place can make all the difference in clean or messy books.
Of course, these aren't really official rules. We work with thousands of small nonprofit groups (PTAs, PTOs, Sports Teams, Clubs, Rotary, Boosters, HOAs and more) and these are the recommendations we've come up with based on our experience. Use them as a starting point for your nonprofit banking strategy, and tailor them to fit your own needs.
Choosing a Bank
Before we get to the list, let's touch on choosing a nonprofit bank. Just like many things in life, who you work with matters. So if you are struggling with your current bank, don't be afraid to shop around. There are great services out there for nonprofit groups-even small ones. Look for a bank that will first and foremost provide you with at least some accounts and services free of charge.
Another thing to consider is that some banks have special resources available to small groups such as yours. Talk to your bank about opportunities such as special account types for nonprofits, waived service fees, loans and other complementary services. When it comes to fundraisers, your bank may also be a good place to start a request.
10 Recommendations for Nonprofit Banking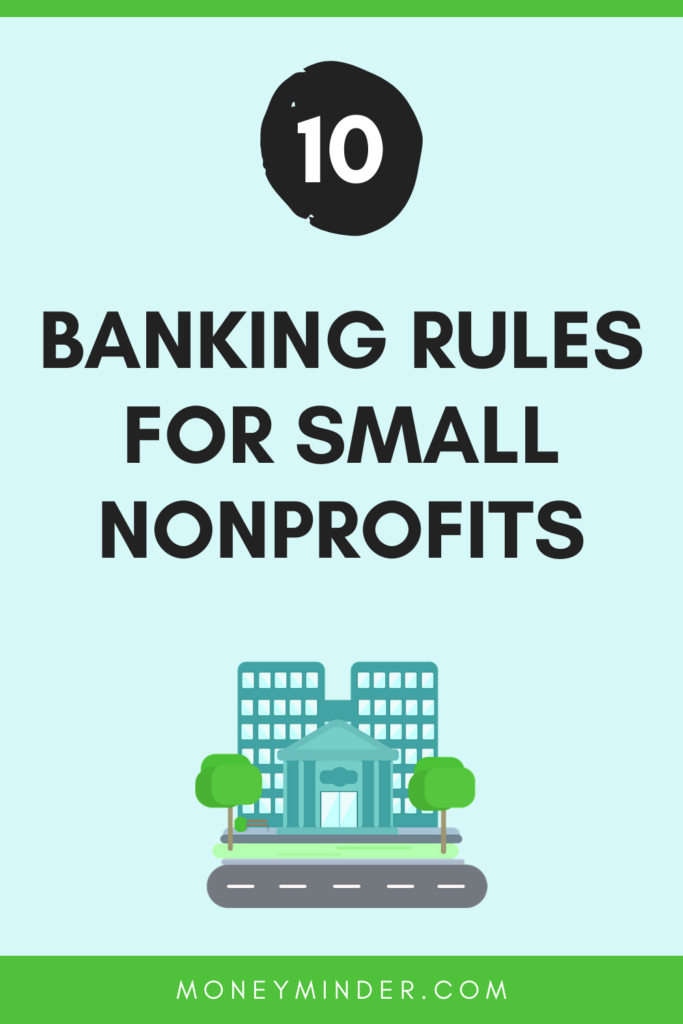 1. Create a dedicated bank account for your group. Many MoneyMinder customers deal with low dollar amounts when it comes to their annual income and expenses. No matter how small your group may be, you should never co-mingle funds in a personal account. Things get messy quickly.
2. Reconcile on a monthly basis. Bank reconciliation should occur monthly, since waiting too long can make it more difficult to fix mistakes. Here are some useful tips for reconciling a checking account.
3. Split up financial responsibilities. If you're the Treasurer but you're also the Special Event, Fundraising, or Communications Chair, it might start to get a little hairy for you to focus on your financial duties. It's good to divide and conquer when it comes to nonprofit banking.
4. Establish cash handling procedures. We have spoken a lot on this blog about nonprofit embezzlement. It sounds like a big word, but even with small groups, it's not uncommon for members to pocket small amounts of cash. Take precautions-like always have 2 people count money-to prevent this temptation from ever even arising. Never reimburse someone out of petty cash. It's a disaster for your books.
5. Have strict systems for debit & credit card transactions. Don't ever write down a donor's credit card number or take credit card handling willy nilly. There's a lot at stake and many compliance measures, so it's best to go with a nonprofit mobile credit card processing tool to ensure your bases are covered.
6. Hold a monthly and annual audit of your books. Some national organizations provide guidelines for audits. Find three members to form an Audit Committee. These cannot have been signers on the bank account due to conflict of interest.
7. Have proper insurance coverage. No, this is not really a banking rule, per se…except that your personal bank account could be at risk if you do not follow this step. If your nonprofit is sued and lacks proper insurance, you could lose personal assets, so take note.
8. Require clear & informative financial reports and statements each month. Love them or hate them, financial statements can help you with everything from keeping your books in line to tracking progress toward your mission. Learn how to generate nonprofit financial statements from last week's blog.
9. Set up a process for checks. If your group processes checks, be sure to set up a paper trail using the carbonless copy provided. Identify the activity for which it was received on the slip. In addition, always require two signatures on checks.
10. Never hold money at your house, in your car, etc. after an event. We spoke about cash handling in point #3 but that seemed like more of a rule to cover other people, right? You, on the other hand, are trustworthy. That might be true, but it's still best never to hold money for your group. What if it gets lost? Many banks provide a night deposit box for this reason, and depositing money at ATMs is easier than ever these days.
And there you have it: happy, organized nonprofit books and banks. All tied up in a neat little bow when you follow these rules. 🎀