When you purchase a property that is managed by a Homeowners Association (HOA) or Property Owners Association (POA), you should make sure you understand the rules. Go through the Covenants, Conditions and Restrictions (CC&Rs). Whew, that's a lot of acronyms!
Maybe the CC&Rs don't seem like a big deal at the time you purchase your home. Maybe you even have it on inside knowledge that some of them aren't even enforced. But all it takes is a change in HOA leadership for all that to change. What is written can be enforced. So it's important to understand what you're signing up for when you buy real estate governed by an HOA.
Finally, once your dream is a reality and you have purchased your property, be sure to stay up on what's happening with the HOA. Communities can vote to change the rules, and if that matters to you, you might want to attend the meetings or even join the board.
All of this is to say that the phrase "Homeowners Association" is sometimes synonymous with conflict. When you live in a community of different people, opposing opinions are bound to arise. First and foremost, know what you're getting into when you sign that dotted line.
Types of HOA Disputes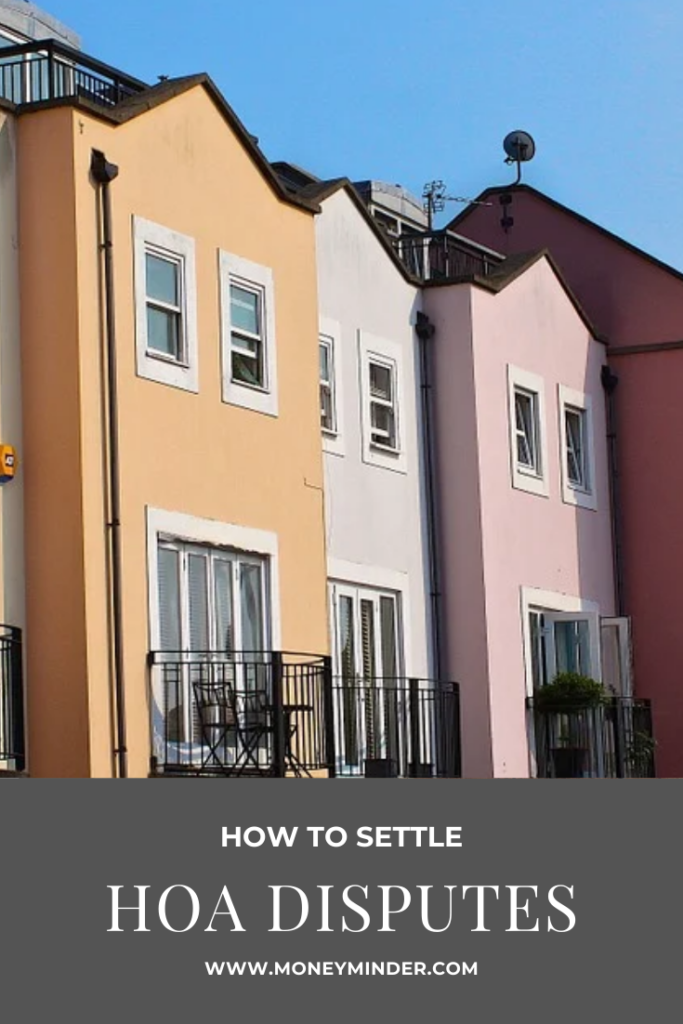 There are many reasons an HOA may be involved in a dispute, including but not limited to:
Fines
Rule violations
Management (or mismanagement) of funds
Different interpretations of a rule
Enforcing a rule not within the CC&Rs
Selective enforcement of rules
Increases in dues
Failure of the HOA to uphold duties
And there are two main categories of parties involved in an HOA dispute:
1. A Homeowner Disagrees with Another Homeowner
As a homeowner, it's always best to get along with your fellow community members. Try to work things out on your own in a civil manner. Does it really matter that Bob keeps putting his trash cans out on your property line? Keep in mind, you have to live next to this person even if you get your way. The last thing you want is for there to be such a divide that your only option is to sell your home.
Sometimes, the CC&Rs may require that two homeowners participate in mediation. Again, being familiar with the rules can help you make sure you're not fighting a losing battle.
When an inter-homeowner disagreement escalates to the point where the HOA needs to get involved, the HOA should tread carefully. Stick to the CC&Rs and don't play favorites. Just help the parties settle their dispute. Use our tips for enforcing HOA rules: 1) start with communication, 2) then a warning, 3) if all else fails, fines.
2. A Homeowner and the HOA Disagree
Another type of HOA dispute is when a homeowner disagrees with the HOA. Maybe she disagrees with a fine that was placed on them. Perhaps she has a different interpretation of a rule than the HOA Board. And finally, she may want to dispute a rule – whether it be new or longstanding – altogether.
In any of these instances, we will always recommend trying to work things out first. Nobody wants a legal battle or the fees that go along with it. For some reason, homeownership tends to bring out big emotions in some people.
In the case of a Homeowner having a dispute with the HOA, it's best to appoint a third party, rather than a member of the board, to help settle the dispute.
How to Handle an HOA Dispute Without Legal Assistance
Your HOA should have some guidelines in place to help handle disagreements. Here are a few tips:
A Grievance Policy should be followed before resorting to a lawsuit. Most problems can be solved with internal procedures. Some larger HOAs have special committees for this purpose.
Try to nip small problems in the bud early. Don't make a huge deal out of them and don't impose fines. Rather than the neighbors going at it over trash left on a porch, let the HOA be the middle man and simply nudge the person in violation.
Try to find a thoughtful resolution that is appropriate to the situation at hand. If neighbors are cutting through someone's yard to get to a public space, for example, why not find a better place for a thoroughfare?
Use technology as a low-touch alternative to having too many meetings. A simple text, call or email can go a long way.
Having a strong HOA board can help ensure you have the right people for the job who will be proactive and handle conflict with experience and ease.
Being on the HOA board can be a big job. One of the things MoneyMinder takes off your plate is accounting software for HOAs that handles bookkeeping, members, dues, reporting and more. Sign up for a free trial – no credit card required.