Homeowners Associations (HOAs) are there to maintain common areas, landscaping, and property improvements, making sure the community is a well-kept, nice place to live.
HOAs also use community funds and prohibit or allow certain activities to enforce previously established guidelines. This is where some HOAs get a bad rap. Even if it's what they signed up for when they purchased the property, people tend to dislike being told what they can and can't do. This is especially true when it involves the biggest purchase of their lives.
So, even if your HOA, POA or COA is doing exactly what it was designed to do most of the time, there is still the occasional bad actor or unforeseen conflict that might create distrust in your HOA. What are some ways your HOA can work to develop trust in the board?
In all honestly, building trust in your HOA board isn't much different than building trust between people. Be honest. Be genuine. Say what you mean. Respect others. Keep an open door and an open mind.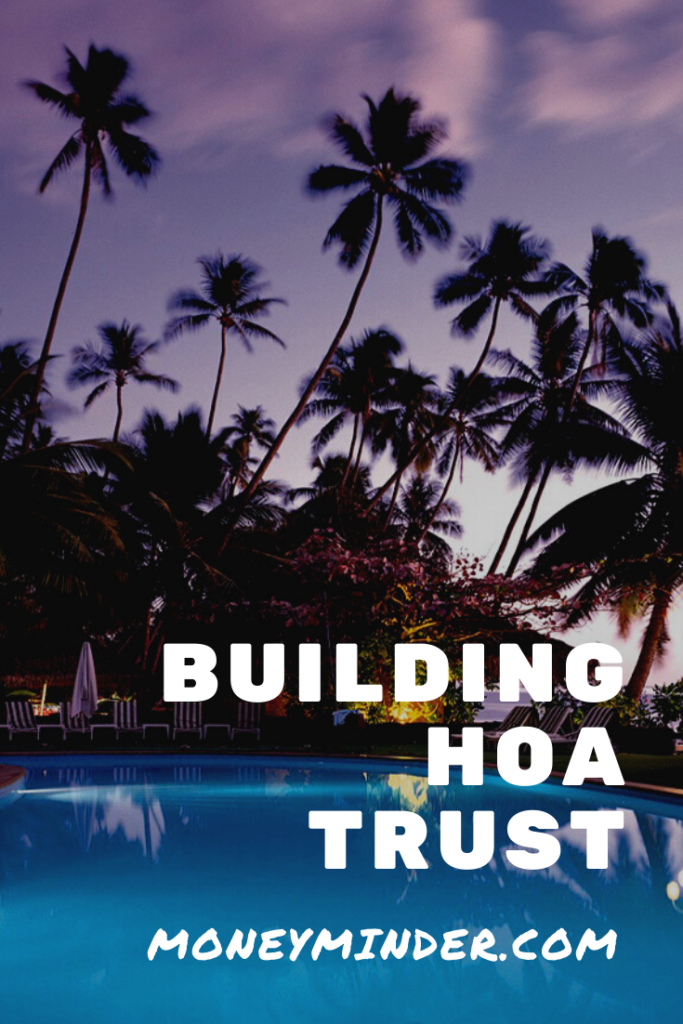 If you are trying to enforce an overgrown landscaping violation, you could start with a gentle policy reminder to the community at large. Be sure to include a date on which you will be inspecting the lawns. If the policy violator is still not in compliance, then it is okay to move through the steps in accordance with your CC&Rs.
Make sure you're drinking your own Kool-Aid. What do we mean by this? Well, it won't be very effective to enforce parking violations when you've had your car improperly parked for two weeks.
If a neighbor has had holiday decorations up and the spring flowers are starting to bloom, be honest with them before you take it to the formal level.
If you're hearing frequent chatter about recurring issues, open up the lines of communication. Hold "office hours" or even set up a community meeting to discuss the issue.
Be open about how community funds are being used and involve the community in decisions as much as possible. Run reports on your HOA books out of MoneyMinder to share at meetings to show you want to be as open as you can.
Just as in human relations, HOA relations are all about transparency. Follow these basic rules and you will develop trust and a more respectful community.