View Our Most Popular Content on Fraud in Nonprofit Organizations:
Audits & Financial Reviews
Is it an Audit or a Financial Review? The intention is the same, as it is the same process. The difference is in who does it! If a paid tax professional does it, it will probably be called an audit. If unpaid volunteers do it, it will probably be called a financial review. We use the terms interchangeably. We can't think of a volunteer group that would not benefit from having an audit at the end of each financial year. Here are some pros and cons of doing an Audit or Financial Review. Read More
---
Get started with your nonprofit financial review or audit. If you do not have a national organization that provides you with Audit guidelines, here are some ideas on how to get started. Read More
---
Prevent Nonprofit Treasury Fraud
The funds of small nonprofits are often in the hands of just a few, with very little upper management types to report to. With the number of hands in the treasury so limited, it might be tempting, for some, to do dishonest things with the funds. It's the "who'll miss this $20 from the cash box" mentality. That's why it's important to cross your t's and dot your i's. Read More
---
Download the Fraudbusters eBook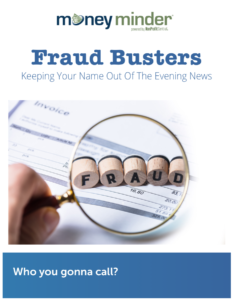 Try MoneyMinder Free for 30 Days
See how easy it is to use. No obligation. No credit card required.