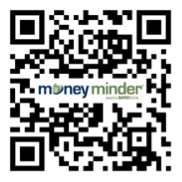 Quick Response or QR codes were first introduced in 1994 to track vehicles during manufacturing. Then, marketers got ahold of them. From events to product packaging, the possibilities were endless.
If you aren't already familiar with them, QR codes are black and white grid shapes that are now aimed at mobile phone users. Some have logos in the middle of them, like the one to the right.
It used to be that you needed a QR code reader on your smartphone to scan the code. Now, most smartphones just allow you to use the phone's camera to lead you to the intended result. QR codes can be used to:
Visit a web page
Dial a number
Send a text
Send an email
Download an app
Open a map page
Display text or images
Open a payment page
Authenticate a WiFi network
There are many free and paid options for creating your own QR code to use for fundraising. At MoneyMinder, we have used and liked qrcode-monkey.com.
The Solution for Socially Distanced In-Person Fundraising?
In the past year+, we've written a lot about virtual fundraising:
At the time of this writing in late April of 2021, we have started to hear a lot of chatter from our customers about in-person fundraising. We are hopeful about the future of in-person events for nonprofits and a return to "normal" within sight.
Some marketers used to joke that QR codes were "dead". Their initial uses seemed so print-heavy, and as the world moved to digital, QR codes did seem to have a lull where they felt spammy, according to one Forbes author from 2012.
But with the pandemic came the need for sanitary and socially distanced solutions. If you've eaten at a restaurant in the past six months, you may have noticed the QR code sign to scan and direct you to the menu. This is the type of solution that QR codes can also bring to the nonprofit sector.
10 Ways Nonprofits Can Use QR Codes in Fundraising
Allow for donations in the moment. Is your group trying to get a new sign for the football field? Put a banner ("help update our sign") with a QR code that leads them directly to your MyStore page to make a donation.
Get more social followers. The greater your network, the bigger your donor base. Put a "follow us" QR code in the places where people interact with your nonprofit so they can solidify their affinity with a social follow.
Show off the work you've accomplished. For example, as students, teachers and parents roam the halls or attend the latest pep rally, feature the names of your scholarship recipients to educate the public about the results of your work. Have a QR code near each name which will link to a web page or blog with more information.
Maximize donations in the checkout line. Many grocery stores will partner with nonprofit organizations to round up the coins or dedicate a percentage of a day's sales. Another option would be to put a sign with QR code at checkout to learn more about your organization or donate in predetermined amounts.
Get faith-based donations. Passing the donation basket around at church may no longer fly with today's COVID safety protocols. And while you don't want people on their phones during church, you could put QR codes for contributions in other convenient places like the lobby.
Convert print materials to fundraisers. One of the most common ways QR codes are used is in print materials. Brochures, flyers, newsletters, mailers and business cards are just a few simple ways to put QR codes leading to your donation page.
Thank donors in a unique way. Once a donation is made, perhaps of a certain threshold, send a donor thank you gift, note or postcard with a QR code featuring a special video for those that help your organization make magic happen.
Say more than what's at the booth. As in-person events start to pick up, utilize QR codes on tables, tents, posters and banners at your booth so that people can learn more about your organization. The more they know, the more likely they are to become donors.
Convey more information at your next silent auction. Silent auctions are a great way for nonprofits to raise money while maintaining social distance. It can even take place of a number of days and weeks as people spread out. But sometimes it's hard to convey everything you want about an item on the display itself. Use QR codes to link users to videos, web pages and more information about the item on which they are bidding.
Sell more items. So, you've set up an online store (perhaps a MoneyMinder MyStore!) to sell your swag or other fundraising items. Why not facilitate the use of that store in your physical sales efforts as well. At concession stands, bake sales or apparel booths, add a QR code with a link to check out online for that particular item.
–> Learn how to use QR Codes to link directly to a MyStore payment page.