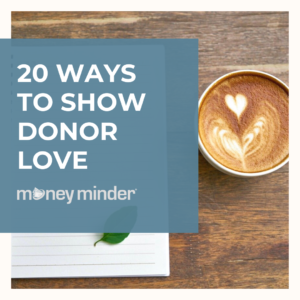 2020, wow. The New Year and decade is upon us! If one of your new year's resolutions is to show more love to your donors, you've come to the right place. Here are 20 ways to make your donors feel appreciated this and every year. 
20 Donor Appreciation Ideas
1. Newsletter Feature
Create a nice write-up about your donors and keep a running feature in your newsletter. Each month you can highlight a different donor.
2. Social Media Shout Out
If you have a social media presence for your organization, create a nice post about each donor and sprinkle them throughout the year. This is a great way to show off your donors but also get them the recognition they deserve!
3. Give them a Call
If you have donors that are older and might not see a social media post, pick up the phone and give them a good old fashioned call. Taking time out of your day to reach out will really show how much you care. It also creates an open conversation where they can share any suggestions they might have for your group.
4. Small Gifts
Gifts are always a great way to show you are thankful. See if any local companies would be willing to donate small items to your organization. Depending on your budget, you could also keep some thank-you gifts on-hand, such as a keychain, glasses wipe or pen with your organization's logo on it.
5. Handwritten Notes
Handwrite a note on a card. It will mean so much more than a typed message that is copied and pasted over and over again. Better yet, have all of your members or stakeholders sign the card, showing your true appreciation for their donation. Handwritten notes thanking donors are appropriate at a variety of times:
Immediately after a donation
At the end of the year
After a repeat donation
On the anniversary of a first donation
Around the holidays
During Giving Tuesday and other special campaigns
6. Appreciation Event
Host an annual event for your donors! It doesn't have to be anything over the top, depending on your budget, but they will enjoy getting to spend some quality time with your group.
7. Website Feature
Create a separate page on your website that has a list of donors, pictures, testimonials and more. Donors will be excited to see how much they mean to you.
8. Welcome Package
This is great for new donors. This package should include more information about your group, testimonials from other donors, and what their donation means to you.
9. Create a Video
Hire a videographer for the day to show what goes on behind the scenes at your organization and how donations play into that. Send the video via email to the donors. It will make them feel extra good about the money they donated. 
10. Send Anniversary Cards
Keep good records of your donations. Send a donor a card one year after their donation thanking them again and encouraging them to check out what your group is doing now.
11. Create Donor Tiers
People love seeing their name in writing, don't they? Create clever tiers of donation levels that match your organization's mission. Update these regularly on a plaque in your office, in your newsletter or even a printout at the annual donor appreciation event.
12. Invite-a-Friend Events
This is a great way to show appreciation and also broaden your network. Host an event that is a special VIP style experience for your donors. Ideally, this can be donated from a local organization. Then, take it a step further by allowing donors to bring a friend to the event.
13. A Unique Donor Wall
Donor walls show off the names of donors on anything from bricks to paper shamrocks. If you're a PTA, create a donor wall that is visible when people (especially other potential donors) walk into the school. If you're a church or faith-based organization, do the same in your church. You get the drift.
15. Create Status Cards
Not every act of appreciation needs to be personal. Throughout the year, you can also share updates of where donations stand and what the need is. Be sure to show appreciation even when you are asking for funds, as donors who see this will know who they are and that their contribution is chipping away at your need.
16. Share Event Photos
Similar to seeing their name on a donor wall or card, it's also nice for people to see a photo of themselves supporting an organization with other members.
17. Invite Them In
Not every donor is privy to the ins and outs of your organization. As you thank them for their recent donation, invite them to come tour your office or meet with you for coffee so you can show them what you're working on and how their donation will make a difference. This can also help inspire them to get involved in other ways such as volunteering.
18. Don't Always Focus on the Money
Be sure to invite the donor to take the next step in getting involved, and thank them not just for their donation, but for their willingness to make a difference and for being a special person.
19. Share Specific Results
After some time has passed, send out a message that shows specifically what their funds have gone toward. Did you pave a new basketball court or get new chairs in the community center? They will feel great the next time they pass by and see what their donation went toward.
20. Local Business Discounts
Partner with local businesses to provide discounts and perks for donors to your organization. The list could be updated annually to encourage recurring donations.
One caveat to showing donor appreciation in public ways like your newsletter and social media is to ensure you have appropriate permission to share the donor's name, photo and other information. How have you gotten creative in showing appreciation? The possibilities are endless.