Finding straightforward accounting software to manage your nonprofits books can be an overwhelming process. Software programs can either be too complex for a small nonprofit or too simplistic for your accounting needs. We would like to make this process a little bit easier for you by providing 3 important pillars to look for when choosing an effective nonprofit accounting software.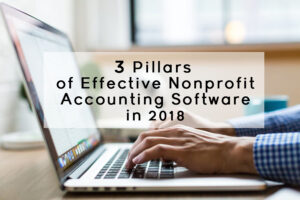 Simple
Your nonprofit has a mission to fulfill and you really can't afford to have administration get in the way. First and foremost, an effective accounting software should be simple. You don't want to spend a lot of time learning the ropes, so to speak. An effective software should be intuitive and easy to use with unlimited and free customer service support should you have any questions.
Universal access is an important feature of an accounting software. Having a system that you can log into anytime you are connected to the internet is very useful when entering transactions, running reports or answering questions.
Accurate
Every dollar counts for a nonprofit organization as a nonprofit should be able to account for each dollar through financial transparency.   Transparency is paramount in order to gain trust with donors as well as staff, organization members and the community-at-large. An effective nonprofit software will not only give you accurate, real-time numbers; it will also help you run a number of helpful financial reports that can demonstrate your financial footing.
Simple problems can arise during the treasurer transition phase. If you have an accounting system that you can easily add a new treasurer to, you can allow a time for training which can make your transition time practically seamless.
Powerful
Having financial information at your fingertips can be a powerful tool. For example, say you have an upcoming fundraiser. You can use accounting software to track all income and expenses as well as send donor acknowledgement letters with a few clicks of the mouse.
Budgets can also be a great planning tool when it comes to nonprofit accounting. Weather the financial ups and downs better when your financial year is planned out. An effective nonprofit accounting system will have a budgeting feature so make sure to utilize this for your organization.
Keep these 3 pillars in mind when choosing a nonprofit accounting software and your financial book keeping will be a success.