Some groups set aside funds that can only be used for a particular purpose (sometimes referred to as restricted funds). Perhaps someone donated money or your group has been setting money aside for a specific, large purchase. Here is how you can keep track of these funds and produce reports that will provide transparency to your group.
---
Click on the Budget icon in the toolbar:

---
Click Add Heading:

---
Name the Heading. Some groups use "Restricted Funds". Others use "Reserved Funds". To understand the difference between these two concepts, check out our blog.

---
Next, click Add Category to reflect how you'll be spending that earmarked money.

---
You may just need one Category, or several, depending upon your project.

---
Click Save Changes in your Budget.

---
Now when you spend money on this project, you will associate the expense with the appropriate Category.
---
When it comes time to report on this project, the Treasurer's Report is a useful tool.
You'll find it under the Reports icon on the toolbar. Reports > Performance Reports > Treasurer's Report.
You will see the Actual Income, Actual Expenses, Year to Date, Net Budget, and More/-Less which tells you exactly how you are performing in each of the budget categories and the whole heading with all the budget categories.

---
To see all of the transactions associated with a particular Heading, such as Restricted Funds, go to Reports > Transaction Reports > All Transactions by Heading and Category.
Check the box for the Heading in the drop-down menu below to Show Only This Heading and then click Apply.

---
Now you can see the detailed activity behind the Heading: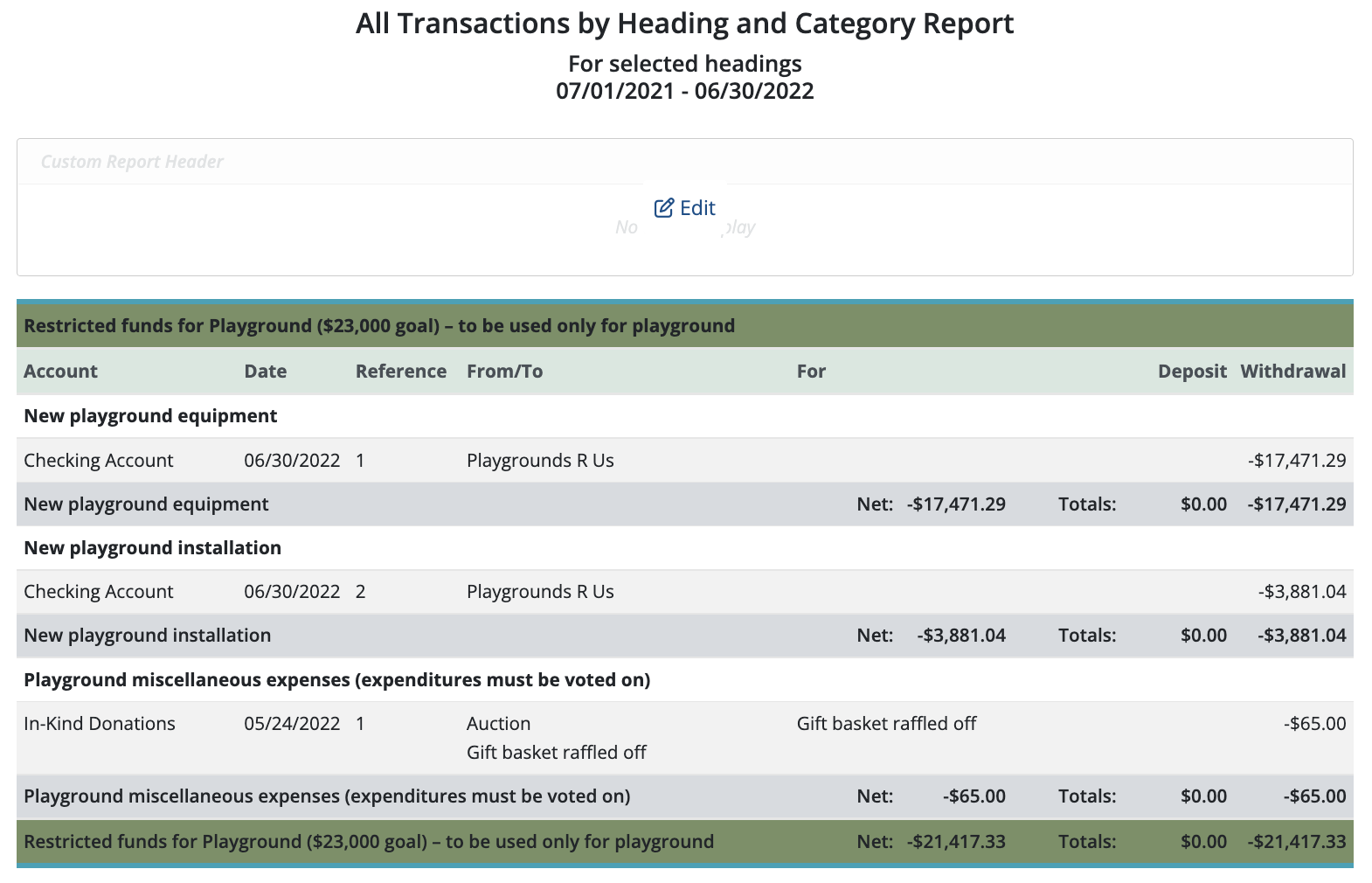 ---