Animal protection is an important cause that has been gaining more attention in recent years. Just like injustices inflicted on humans have come to light thanks to the internet, smartphones and social media, animal cruelty, exploitation, neglect and loss of habitat are all topics that have been brought to the top of mind for many. Animal Nonprofits are incredibly important to the protection of animal well-being, both wild and domesticated.
Animal Nonprofits are dedicated to advocating for those without a voice. They advocate for all kinds of issues to help animals: humane treatment, better living conditions, proper nutrition, humane euthanasia, banning animal testing, responsible pet ownership and wildlife habitat protection. Beyond that, these groups are also involved in advocating for legislation as well as providing education and resources to further their understanding and protection.
An animal nonprofit is one that helps improve the lives of animals, and could look like a sanctuary, an animal shelter or an adoption program. It could also be more of a public outreach outfit that seeks to change policies and practices. The amazing animal protection groups MoneyMinder serves are typically local shelters and clubs. If you are looking to make some year-end donations, please consider supporting a local animal group.
For national and international groups, let's get down to business and find out which animal nonprofits are the most reputable. We'll use Charity Navigator so you can make an informed giving decision based on each group's accountability, transparency, trustworthiness and how much impact a donation truly has. We sorted our research by the top nonprofits with the highest scores, which were all above or right around 90.
Top Animal Protection Nonprofits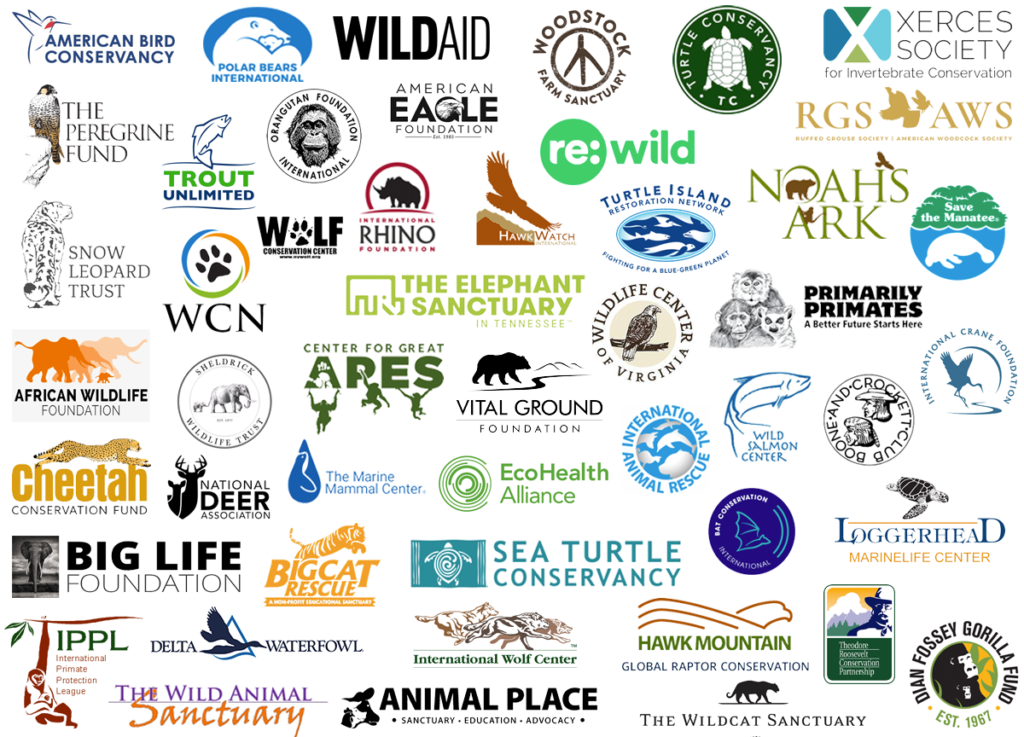 1. Vital Ground (Score 100) — Since 1990, over 620,000 acres of grizzly habitat have been preserved or enhanced by Vital Grounds. They work to protect private and public land connections in the northern Rockies, with residual benefits to other species like the Canada lynx, native plants, migratory birds, and humans. https://www.vitalground.org/
2. Center for Great Apes (Score 99.17) — As the only accredited orangutan sanctuary in the nation, the Center for Great Apes is a donation-supported entity that protects endangered orangutans and chimpanzees. https://centerforgreatapes.org/
3. New England Wildlife Center (Score 98.9) — Another animal based 501(c)(3) that does not receive government funding, the New England Wildlife Center is here to provide humane care to sick, injured and orphaned wildlife. https://www.newildlife.org/
4. Noah's Ark Animal Sanctuary (Score 98.56) — Both exotic and farm animals can find sanctuary at Noah's Ark in Georgia. Costs are high, and donations are key. https://noahs-ark.org/
5. Wildlife Conservation Network (Score: 98.23) — The nice thing about this organization if you are passionate about a particular species of wildlife is that you can choose which species 100% of your donation goes toward. https://wildnet.org/
6. Dian Fossey Gorilla Fund International (Score: 97.87) — The reason gorillas are on the brink of extinction is because people poach them and destroy their habitats. This foundation knows that gorillas will need our help to survive. https://gorillafund.org/
7. Big Cat Rescue (Score: 97.4) — Big Cat Rescue is home to over 50 lions, tigers, courgers and other wild cats who were pets to people who can no longer care for them, were abandoned abused or retired from performance. They also work to end private possession of exotic cats through legislation and education. https://bigcatrescue.org/
8. Ruffled Grouse Society (Score: 97.23) — With the vision of creating landscapes of diverse forest ecosystems that provide homes for wildlife, RGS has worked to help songbirds and other wildlife since 1961. https://ruffedgrousesociety.org/
9. Turtle Island Restoration Network (Score: 97.23) — Help protect marine wildlife and oceans through science that creates lasting change. https://seaturtles.org/
10. Re:wild / Global Wildlife Conservation (Score: 97.17) — Re:wild is one of the top animal nonprofits that brings together communities, leaders, NGOs, government, companies and the public to protect and conserve land that is vital for biodiversity. https://www.rewild.org/
11. The Elephant Sanctuary (Score: 96.8) — This sanctuary helps captive elephants with care and compassion as well as educating the public on the crisis facing elephants. https://www.elephants.com/
12. WildAid (Score: 96.48) — In order to reduce illegal wildlife trade (a multi-billion dollar industry), WildAid works to decrease the consumption of wildlife products and increase support and conservation. https://wildaid.org/
13. Cheetah Conservation Fund (Score: 96.05) — Conservation, research and education fuel the Cheetah Conservation Fund's success in saving the cheetah and its ecosystem. https://cheetah.org/
14. Save the Manatee Club (Score: 95.79) — Help protect the aquatic habitat for today's manatees and those of the future. https://www.savethemanatee.org/
15. Boone and Crockett Club (Score: 95.71) — Established by Theodore Roosevelt and George Bird Grinnell, this animal nonprofit is all about hunters dedicated to conservation of wildlife. https://www.boone-crockett.org/
16. Wildlife Center of Virginia (Score: 95.58) — Treating birds, mammals, reptiles and amphibians, the Wildlife Center has been providing healthcare for native animals since 1982. https://www.wildlifecenter.org/
17. Big Life Foundation USA (Score: 95.47) — With areas of focus on anti-poaching and other wildlife crimes, Big Life covers 1.6 million acres in East Africa. https://biglife.org/
18. Orangutan Foundation International (Score: 95.12) — This animal nonprofit's mission is simple: protect orangutans and their tropical rainforest habitat. https://orangutan.org/
19. The Wildcat Sanctuary (Score: 95.04) — Located in Minnesota, this sanctuary gives wild cats the opportunity to live wild without being on exhibit. https://www.wildcatsanctuary.org/
20. Snow Leopard Trust (Score: 94.88) — 5 countries contain over 75% of the world's population of wild snow leopards. The Snow Leopard Trust helps educate and protect their local wildlife ecosystems. https://snowleopard.org/
21. The Marine Mammal Center (Score: 94.77) — Human activity threatens marine ecosystems, and The Marine Mammal Center aims to conserve this through animal rescue, veterinary medicine, science and education. https://www.marinemammalcenter.org/
22. Polar Bears International (Score: 94.62) — The only conservation organization dedicated solely to wild polar bears, Polar Bears International envisions long-term survival of polar bears across the Arctic. https://polarbearsinternational.org/
23. Sea Turtle Conservancy (Score: 94.56) — Help the Conservancy ensure that sea turtles survive in their natural habitats within the Caribbean, Atlantic and Pacific through research, education, training and advocacy. https://conserveturtles.org/
24. International Rhino Foundation (Score: 94.28) — With programs in Africa and Asia, this U.S.-based animal nonprofit supports rhino species and the communities that coexist with them. https://rhinos.org/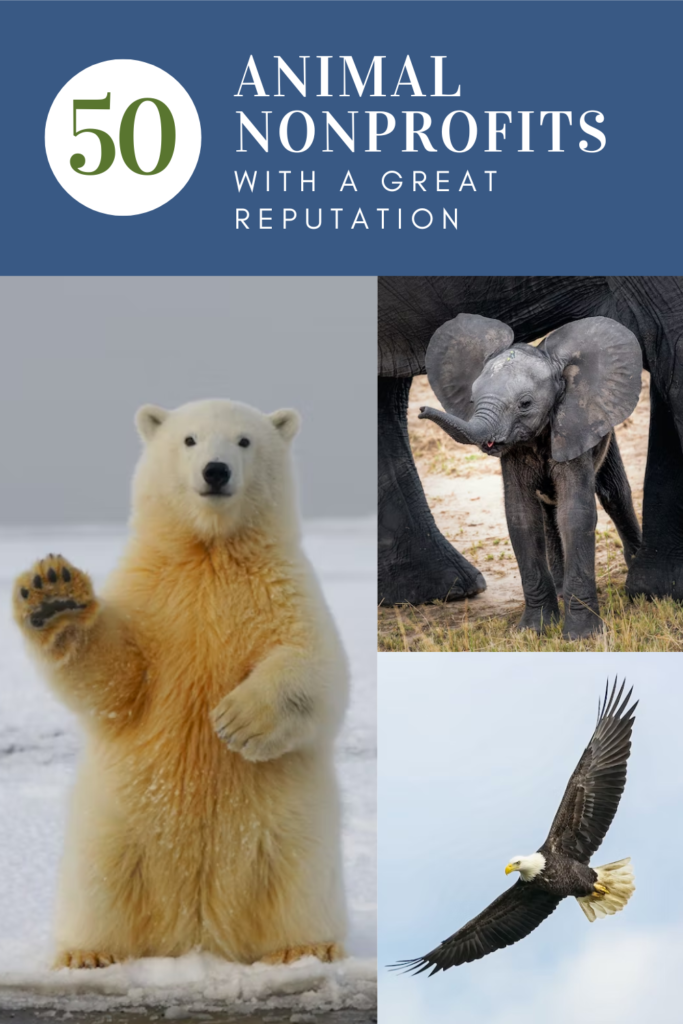 25. American Bird Conservancy (Score: 94.26) — The ABC makes strides to prevent the extinction of endangered bird species, conserve bird habitat, reduce threats and build a community of conservationists. https://abcbirds.org/
26. Loggerhead Marine Life Center (Score: 93.6) — A scientific nonprofit dedicated to ocean and sea turtle conservation and rehabilitation in Florida. https://marinelife.org/
27. Wolf Conservation Center (Score: 93.45) — This New York-based center works to protect and preserve wolves in North America through science, education, advocacy and recovery, and release programs. https://nywolf.org/
28. Wild Salmon Center (Score: 93.28) — Salmon migrations are one of nature's greatest miracles. Salmon is a vital source of nutrition for bears, whales, humans and more. The Wild Salmon Center helps to halt the decline of these iconic species. https://www.wildsalmoncenter.org/
29. Woodstock Farm Animal Sanctuary (Score: 93.1) — A home for rescued farm animals, Woodstock Farm envisions a world rooted in respect for all living beings. https://woodstocksanctuary.org/
30. Performing Animal Welfare Society (Score: 93.01) — Support and change the life of retired, neglected or abused performing animals and victims of the exotic animal trade. http://www.pawsweb.org/
31. Trout Unlimited (Score: 92.92) — Trout Unlimited helps to conserve, care for and recover rivers and streams with 387 chapters across the United States. https://www.tu.org/
32. Xerces Society for Invertebrate Conservation (Score: 92.91) — Xerces works to protect, restore and expand the habitat of pollinators, conserve endangered species and reduce the reliance on pesticides. https://www.xerces.org/
33. Turtle Conservancy (Score: 92.68) — Focused on saving turtles and tortoises all over the world, even more species who live in the same ecosystems also benefit from this protection. https://www.turtleconservancy.org/
34. International Wolf Center (Score: 92.38) — By educating the public, the International Wolf Center helps inspire action and change to protect the survival of the wolf, a vital predator in the ecosystem. https://wolf.org/
35. Primarily Primates (Score: 92.38) — Since 1978, Primarily Primates has rescued chimpanzees and provided a lifetime of care and research. https://primarilyprimates.org/
36. Theodore Roosevelt Conservation Partnership (Score: 92.32) — The organization believes in protecting critical habitats through responsible planning and protection of hunting grounds and fishing holes. https://www.trcp.org/
37. International Crane Foundation (Score: 92.02) — From Wisconsin and with reach around the globe, the Foundation is committed to a secure future for all 15 of the world's crane species. https://savingcranes.org/
38. Hawk Mountain Sanctuary (Score: 91.7) — The world's first refuge for birds of prey, HMS uses a local-to-global approach to conservation, with local education, programs and events that have reaching effects around the world. https://www.hawkmountain.org/
39. The Wild Animal Sanctuary (Score: 91.36) — With three U.S. facilities and over 11,000 acres, Wild Animal Sanctuaries rescue animals from horrible captive situations so they can roam freely within large natural habitats. https://www.wildanimalsanctuary.org/
40. Bat Conservation International (Score: 91.33) — Bats are vital to the world's ecosystems, but many species face extinction. BCI uses cutting-edge tools, technology and training to create a measurable impact. https://www.batcon.org/
41. Sheldrick Wildlife Trust (Score: 91.22) — With a focus on the conservation, preservation and protection of elephants and other wild animals in Africa, this pioneering organization is best known for its elephant orphan rescue operation. https://www.sheldrickwildlifetrust.org/
42. The Peregrine Fund (Score: 91.17) — Empowering people and communities, The Peregrine Fund is focused on conservation, engagement and capacity for birds of prey around the world. https://peregrinefund.org/
43. American Eagle Foundation (Score: 90.94) — Through conservation and outreach, this 501(c)(3) inspires the global community to protect the bald eagle and all birds of prey. https://www.eagles.org/
44. Animal Place (Score: 90.8) — This farm animal rescue based in California not only helps provide sanctuary, education and adoption, but they also focus on legislation and appropriate placement of needy animals. https://animalplace.org/
45. International Animal Rescue (Score: 90.67) — On a mission to create ecosystems where animal habitats are protected, IAR is an animal charity that helps with education, rescue and rehabilitation of animals. https://www.internationalanimalrescue.org/
46. International Primate Protection League (Score: 90.66) — From fighting smugglers to scientific research, IPPL helps protect primate species around the world, 60% of which are threatened with extinction. https://ippl.org/
47. EcoHealth Alliance (Score: 90.55) — A global environmental nonprofit, this organization helps protect wildlife from the emergence of disease. https://www.ecohealthalliance.org/
48. National Deer Association (Score: 90.55) — The National Deer Association focuses on important conservation issues impacting wild deer at the local, state and federal levels. https://deerassociation.com/
49. African Wildlife Foundation (Score: 90.06) — An Africa-based group that protects wildlife and their habitats, AWF focuses on solutions that create opportunities for people as well. https://www.awf.org/
50. Delta Waterfowl Foundation (Score: 89.48) — With a deep understanding of waterfowl and their habitat, Delta Waterfowl has worked to protect waterfowl populations. https://deltawaterfowl.org/
*all scores taken 12/9/22.