How has your nonprofit group been impacted by the COVID-19 outbreak and subsequent distancing measures? We've been getting a lot of phone calls, chats and emails with questions from our customers, and we thought we'd address some of them here.
Tools for Keeping Your Nonprofit Group Moving Forward
While some groups may have come to a full standstill, others need to keep on keepin' on, despite the circumstances. But when you're used to doing things face-to-face, virtual can be an adjustment.
10 Video Meeting Apps with a Free Component
Luckily, there are plenty of easy-to-use tools for virtual meetings. The best part about most of them is that they use what is called a "freemium" model. That means they offer a free package with limitations and the ability to pay to level-up if you need more features.
Managing Budget Changes Due to Cancellations and More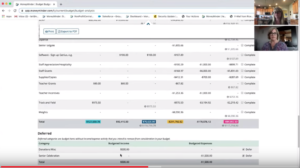 MoneyMinder has a Budget Analysis tool. With it, you can defer items you haven't completed or started. When you do so, it removes those items from your budget and brings them down to deferred so you can view your new totals.
Day-to-Day Business with COVID-19: FAQs 
Some additional concerns we've heard from customers certainly pose difficult problems.
"My organization requires a two-signature rule when cutting a check. This ensures both signers agree the payment is appropriate. How can I get around this requirement during the COVID-19 quarantine?"
"We require a general membership meeting in order to approve budget for next year. How can we accomplish this if we cannot meet?"
Similarly, "our general membership meeting is when we nominate and elect board members for next year. How can we accomplish this?"
These are difficult times. We recommend starting with your governing board. If you're a parent group, see what your State PTA recommends. If nothing has been published on their website or correspondence, contact them directly.
If that method doesn't produce answers, make temporary changes to your bylaws to allow business to be conducted without these limiting factors.
Give yourself and your group a little grace during this time. And know that MoneyMinder is here to help. We're answering phone calls, emails and live chats Monday through Friday, 8:00 a.m. to 5:00 p.m. Pacific Time.
This Week's Quarantine Coffee Chat with Teri & Julie
We think you'll enjoy this video with MoneyMinder's own Teri and Julie. Thank you for the great tips, ladies!