The school year is coming to an end, and for the summer we'll say goodbye to school friends. Your teacher worked hard all year, and now it's time to bring him/her some cheer. No amount of money can amount to what you owe 'em, so why not show teacher appreciation with a poem?
These teacher appreciation poems are sure to inspire, so don't get nervous and start to perspire! Write your own poem if you dare, or use one of these, we won't care!
---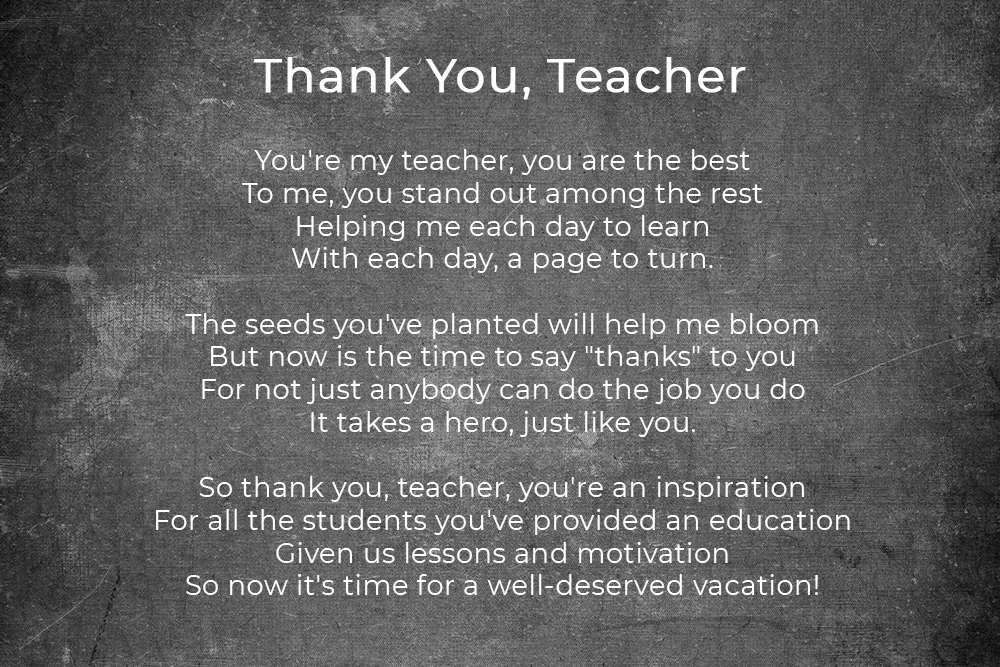 Thank You, Teacher
Anonymous

You're my teacher, you are the best
To me, you stand out among the rest
Helping me each day to learn
With each day, a page to turn.
The seeds you've planted will help me bloom
But now is the time to say "thanks" to you
For not just anybody can do the job you do
It takes a hero, just like you.
So thank you, teacher, you're an inspiration
For all the students you've provided an education
Given us lessons and motivation
So now it's time for a well-deserved vacation!
---
My Special Teacher
You are my special teacher
I just want you to know
I always had fun in your class
How the time has flown!
Thank you for helping me
To learn all that I know
I will always remember you
Even when I'm grown!
I'll miss you being my teacher
I know the reason why
I am feeling very sad
Because it's time to say goodbye.
---

Favorite Teacher
Author Unknown

Thank you, favorite teacher
For acting like a friend,
And taking time to show me,
Lessons hard to comprehend.
Thank you for your caring
And lots of other stuff;
For all the things you gave me,
I can't thank you enough.
---
One Hundred Years From Now
Excerpt from "Within My Power" by Forest Witcraft

"One Hundred Years from now It will not matter what kind of car I drove, What kind of house I lived in, how much money was in my bank account nor what my clothes looked like. But the world may be a better place because I was important in the life of a child."
---
Thank You For Inspiring Me
William Arthur Ward

"The mediocre teacher tells. The good teacher explains. The superior teacher demonstrates. The great teacher inspires."