The History of Moneyminder Store (A CheddarUp Partnership)
MoneyMinder has served nonprofit groups — like PTAs, PTOs, Boosters, Sports, Scouts, Social, Service and Faith-Based Clubs — for nearly two decades. Over the years, we've added countless other groups like Homeowners Associations, Volunteer Fire Departments, Historical Societies, Garden Clubs, Animal Rescue Groups and even Quilters Clubs to the list of groups we serve.
Our business mission is to make the lives of volunteers easier. While that does include centralized management of things like donors, volunteers, documents, contacts and statements, much of our functionality is built for treasurers. We excel at helping volunteers with bookkeeping, reconciliation, budgeting, reporting and tax documents.
Constantly looking to excel at our mission of helping volunteers, we wanted to find a way to simplify the way groups bring money into their organizations. In 2020, we jumped at the chance to partner with an amazing software company called CheddarUp to do just that. MoneyMinder Store has become one of our most popular features, and the rest, as they say, is history.
Types of Payment Platforms
These payment platforms probably don't need an introduction as most people know them by name. But if you aren't in the payment platform space, you might not know what makes these services different. There are two basic categories of payment platforms: Peer-to-Peer (P2P) and Small and Medium Business (SMB). MoneyMinder Store fills the gap in between these two services. Let's explore the differences.
Person-to-Person Payment Platforms
With P2P Payment Platforms like Venmo, Zelle or CashApp, friends can make quick and easy payments to one another. This is great for paying the tutor or dog sitter.
SMB Payment Platforms
On the other hand, SMB Payment Platforms like Paypal, Square and PaySimple are more for consistent payments that are collected. A classic example is when a small business sells something on eBay.
MoneyMinder Store: Payment Platform for Groups and Clubs
Then there's us. If P2P platforms are too light and SMB platforms are too heavy, MoneyMinder Store might be right for you. Our Group Payment Platform was built just for groups and comes with bells and whistles that make it easy for you to ditch the checkbook and paper forms.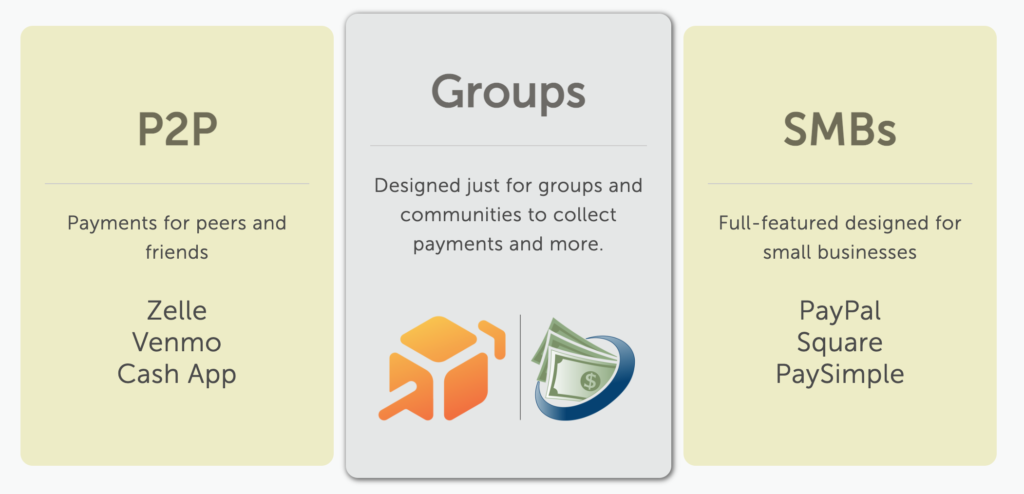 10 Benefits of MoneyMinder Store
With all of that said, let's get down to brass tax on why MoneyMinder Store (in partnership with Cheddar Up) is going to be the best option for your group. Here goes.
Create an online store with your logo and branding in minutes.
Collect money online or in person.
Can be used for purchases or donations. See more examples.
Automatic reminders can be set up for recurring payments, and follow-up notifications help ensure the payments get made.
Payers don't have to download any special app or even sign up for an account to pay you.
Transitioning to new treasurers is easier and more secure than other payment platforms because the account lives with your group and not an individual.
Unlike these other systems, you can collect both Payments and Information (think waivers, forms, t-shirt sizes, signatures, etc.)
Inventory management capabilities help ensure you don't oversell what you don't have
It integrates seamlessly with ALL editions of MoneyMinder and includes extensive reporting capabilities
MoneyMinder subscribers get the TEAM version of Cheddar Up for free.
The best part of all? The full-featured team edition of MoneyMinder Store comes at no cost to you unless a transaction is made. That means once your fundraiser is over, you aren't paying anything and your store and settings can remain in place for next time. What's more, you can opt to pass the fees (except for the platform fee) on to your payer, which many nonprofits do.
Learn about MoneyMinder Store's simple fee structure and get set up today!