We are navigating unprecedented times in the sports world. Depending on locale, your sport may have begun with modifications or been canceled altogether this fall. We're even hearing about some who started up only to be canceled shortly thereafter. Notre Dame football, for example, just announced the cancellation of its third football game in 100 years after multiple athletes tested positive for COVID-19.
So, whether your sport is on hold now or at a future date, it might be worth thinking about how to manage finances when revenue is dried up.
Who is Impacted When Sports are Canceled?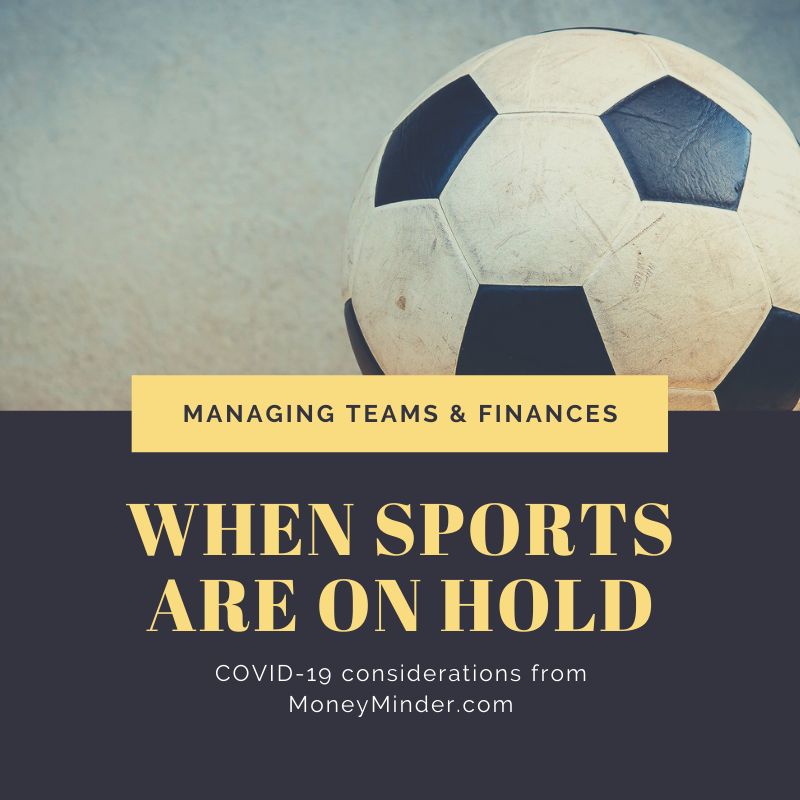 Nearly everyone involved in your sports league is impacted by cancellation. For Athletes, there's the loss of the camaraderie, skill learning and competition that is a part of youth or adult growth. For youth sports, Parents feel the loss for their children, and they will also have concerns over lost money from dues, uniforms, etc.
Coaches, Referees, Medical and Other Staff and League Owners perhaps have the largest burden on their shoulders, with the potential impacts including:
Parents and Players who want their money back
Loss of rent and other expenses
Loss of ticket sales
Loss of sponsorships for select leagues
Uncertainty of employment
Dealing with Financial Uncertainty in Sports Leagues Due to COVID
The uncertainty and financial consequences can be tough pills to swallow. Many districts and leagues are left trying to play out different scenarios on how to make things work.
Game On, With Modifications
Reduced size events, eliminating audiences, mask mandates, screening and frequent testing top the list of measures to keep sports up and running. We are increasingly learning that ventilation is the most important factor in preventing the spread of COVID-19, so winter sports like basketball, volleyball and wrestling will likely bring more challenges to remain open, even with modifications.
Refunds
If yours is a league that offers season tickets, review the terms and conditions and act accordingly. For sponsorships, you'll have to decide whether it's appropriate to refund any money, postpone the agreement to a future season, or maintain status quo. The same goes for Players or Parents who request refunds.
Employment Changes
It can be hard to hire good staff, so you don't want to burn any bridges. But when revenue is stalled, you can't just bleed money, either. If you have to make cuts, be sure to do so in an equitable fashion so that certain groups don't feel discriminated against. Whether you do a blanket percentage cut, layoffs or furlough, be sure to communicate that the cuts are temporary, and you plan to re-hire as soon as possible.
Insurance Policies
And while some teams and leagues may have insurance policies that can cover the lost revenue from cancellations, most could not have foreseen such an event and may not have had that type of coverage.
Government Relief
Current and future government relief packages like the Coronavirus Aid, Relief and Economic Security (CARES) Act or the Paycheck Protection Program (PPP) can help owners pay bills and payroll during these difficult times.
Preparing by Scenario Planning
The truth is, nobody knows how long we'll be in the situation we're in. We're all hoping for the best, but at the end of the day, even nonprofits have to mind the bottom line. One way to ensure you're prepared is by scenario planning.
The Budget Analysis Report from MoneyMinder shows you different financial outcomes for a variety of scenarios. You can defer events or income and it will reveal the changes to your financial outcome. It's a small way that we can help in these uncertain times. We have free demos and trials if you'd like to check out this tool.
In the meantime, we wish you and yours the best. To be honest, our fingers are crossed that this article will become obsolete much sooner than later!