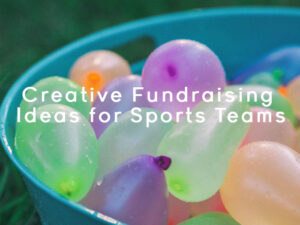 The same old fundraiser might bring in money, but it can also get a little boring for yourself and supporters. Why not try something new? Here to change up your moneymaking activities are a few creative fundraising ideas for sports teams.
Obstacle Course
How many people tune in to watch "American Ninja Warrior" each week? How about capturing that excitement with your own Obstacle Course? Put people's agility to the test in a large park or field. Set up challenges and obstacles, the more creative, the better! Charge a per person fee or a fee per team. The winner gets a prize and bragging rights!
Dinner Delivery
Partner with a local restaurant and offer to deliver dinner for a small fee. Pick a busy weekend and make sure your delivery service is well advertised! You could also offer add-ons like fresh cut flower bouquets or cold sparkling water. This fundraiser is an easy money-maker for your team and it gets your team members out in the community advocating for your sport.
Water Balloon Fight
Who doesn't love a good water balloon fight on a hot day? Have a few hundred balloons on hand and charge $1 or $2 dollars per balloon. Have a sprinkler or water table for little ones and have a blast cooling off and making money.
Serve-a-Thon
Serve the community and raise funds for your sports team at the same time. Get pledges from the community for different service projects. You could ask for $2 for every piece of garbage you pick up, or a $5 pledge for walking dogs at the local animal shelter. You will be surprised at how fast good deeds add up to big dollars.
Dog Wash
Speaking of dogs, how about hosting a dog-wash? Set up a few dog washing stations with buckets of warm water, soap and towels and offer to wash neighborhood dogs. You could even offer an "air-dry" walk to both dry the dog and get them some exercise. Charge per pup. Make sure and have a camera on hand because everyone loves a sudsy pooch and blast on social media.
Kids Camp
A simple kids camp is not only fun, but educational as it introduces young children to a sport. A good way to get campers is to piggyback on a popular story-time or exercise class. Charge a fee per child and take an hour or two to practice, play games and have fun. Schedule a few of these day camps throughout the summer and see excitement and skills build throughout the season.
These are just a few of our favorites creative ideas for fundraising. All things considered, the most important part of fundraising is the FUN.