Youth cheerleading is a great opportunity for kids. It helps young children gain confidence in themselves and find their voice in a safe, unified environment. It is a team sport that fosters friendships that can last a lifetime. Not to mention the physical benefits, like strength, coordination and flexibility. For some, cheerleading has it all!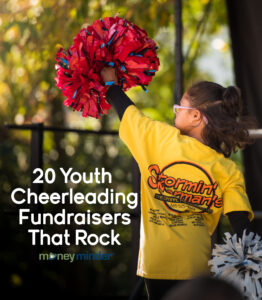 But for others, the expense of cheering can burst their bubble. Buying the cheer uniform may sound simple, but the other costs add up quick. From registration and events like pep rallies to practice gear, warm-ups and accessories (think pom poms, matching shoes, socks and more). Then there's the extras like summer camps and competitions. The website Omnicheer estimates that high school cheerleading can cost between $500 and $5,000 a year, depending on the level of competition. 
A great way for students to offset this cost burden is with cheerleading fundraisers. Here are some of our favorite ideas to cheer for.
Cheerleading Fundraisers to Consider
Concessions:

Set up a table and sell baked or store-bought goods at a local sporting event, in a park

 or in front of an approved store. 

Cookbook:

Have teammates and their families compile their favorite recipes into a small cookbook. The neighborhood will love to have well-loved recipes that come from diverse family traditions.

T-shirt:

Create a simple t-shirt design that shows off your school spirit and give each team member a sales goal. 

Penny Drive:

Ask neighbors, classmates and family to donate their pennies (other coins accepted too!). It helps them clean out their junk drawer and cars but it adds up quickly and can really make a dent in your cheer costs.

Garage Sale

: Have the team gather up items from home that are gently used and have a joint garage sale. Garage sales usually get a lot of attention from more than just your surrounding neighborhood so you may get a lot of sales!

Cookie Dough or Popcorn:

There are companies like SavoryFoods that help you raise funds by selling their bulk cookie dough. Neighbors and friends will love stocking up on sweet treats and helping a good cause.

Basket Raffle:

Create baskets full of fun prizes. Then, see if you can get local businesses to donate to the baskets. You could do fun themes like "Picnic In The Park" with grilling utensils, grocery store gift card and an apron.

Clean Marathon: Ask neighbors if they would be willing to participate in a cleaning marathon. They would pay a reasonable amount for the squad to deep clean areas of their house or yard. See how many houses you can hit in one day.
Car Wash:

Set up a carwash in your neighborhood. Pick a Saturday morning and hang bright poster signs in the area beforehand. 

 Local Talent:

Create a fun Friday night show for a local band. Charge a cover fee and sell concessions, too!

5K or Sports Challenge:

Have fitness enthusiasts register for a 5k or any other sporting challenge such as a soccer game or flag football. Winners will take home a prize.

Have a School Spirit Contest:

Put coffee container donation bins throughout the school and charge $1 for each vote for the most spirited student. Winner gets school-wide recognition.

Partner with a Local Business: Grocery stores like Whole Foods will often have a day each month where they choose a beneficiary to receive a percent of the profits. So, find a local restaurant or store who will do the same.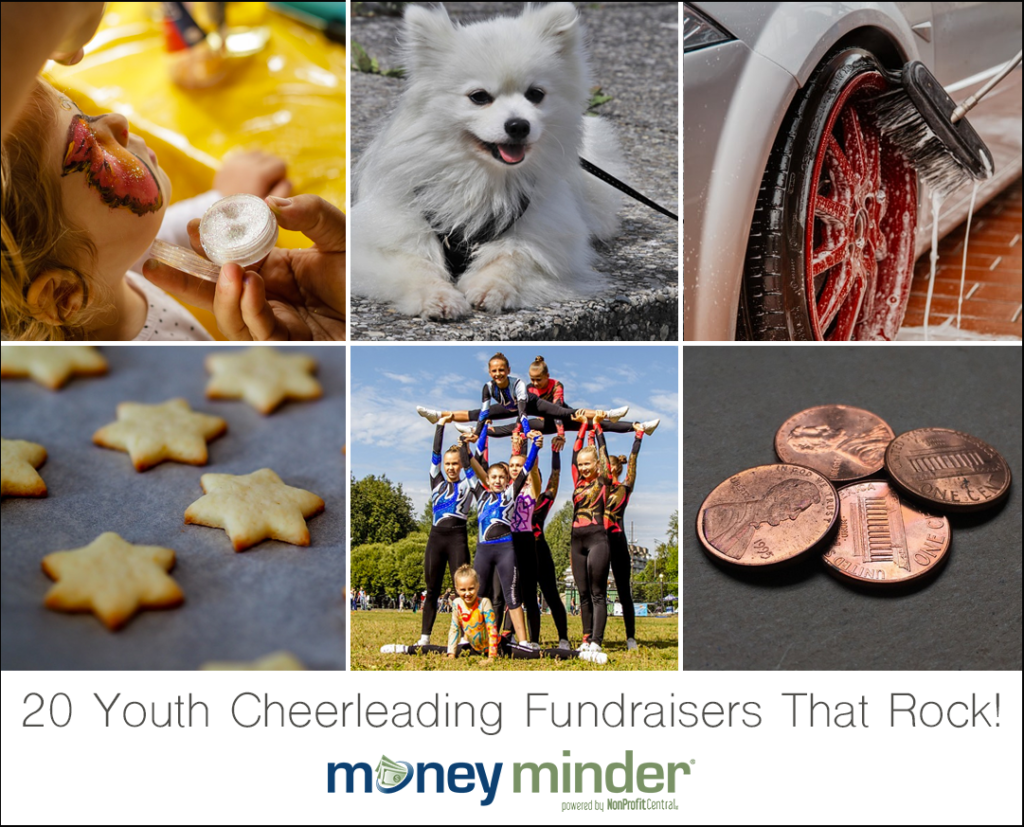 Dunking Booth:

Put your cheer coach on display at the local festival or before the next big game. Who doesn't love this timeless classic?

Team Babysitting:

Grab the qualified teammates in your squad and choose a 2 to 4 hour period at a popular event where you will provide childcare for a small fee.

Face Painting:

Grab your paints and the best artists on the team and paint school spirit symbols on the faces of kids and adults alike at the next big game.

Dog Walking After School:

Ask each teammate to spread the word in their neighborhood that they are providing dog walking services to support their cheerleading squad.

Host a Cheer-Off:

Participants find pledges who are willing to bid a certain dollar amount for every 10 minutes of consecutive cheering he or she does.

Teach the Youngsters:

Host a small cheer clinic for a younger age group in which cheerleaders teach a basic cheer with the end goal of performing for the parents.

Movie Night:

Host a

Night At The Movies

with movie tickets, candy and popcorn vouchers. Be sure to choose a movie that is appropriate for your audience and charge a nominal fee for tickets. 
As your child raises funds, make sure it is clear what the purpose is. People are willing to help when they know where their money is going. You may even want to have a sign at your fundraising event demonstrating the need. Once you find what raises the most money for your cheer squad, consider making it an annual event.