Is your small nonprofit group (PTA, Boosters, Scouts, Service or Social Club) struggling to make the most out of board meetings? We've got you covered. Let's walk through 10 invaluable tips for conducting masterful nonprofit meetings that will elevate the impact of your endeavors.
Make Every Meeting Count
Meetings play a pivotal role in the success of small nonprofit groups, acting as the platform where ideas are nurtured, plans are devised, and decisions are made. But, all too often, meetings for nonprofits can lack direction — becoming unproductive very quickly. Fear not. With our expert advice, your meetings will transform into efficient, engaging and purpose-driven sessions that nonprofit board members will not want to miss.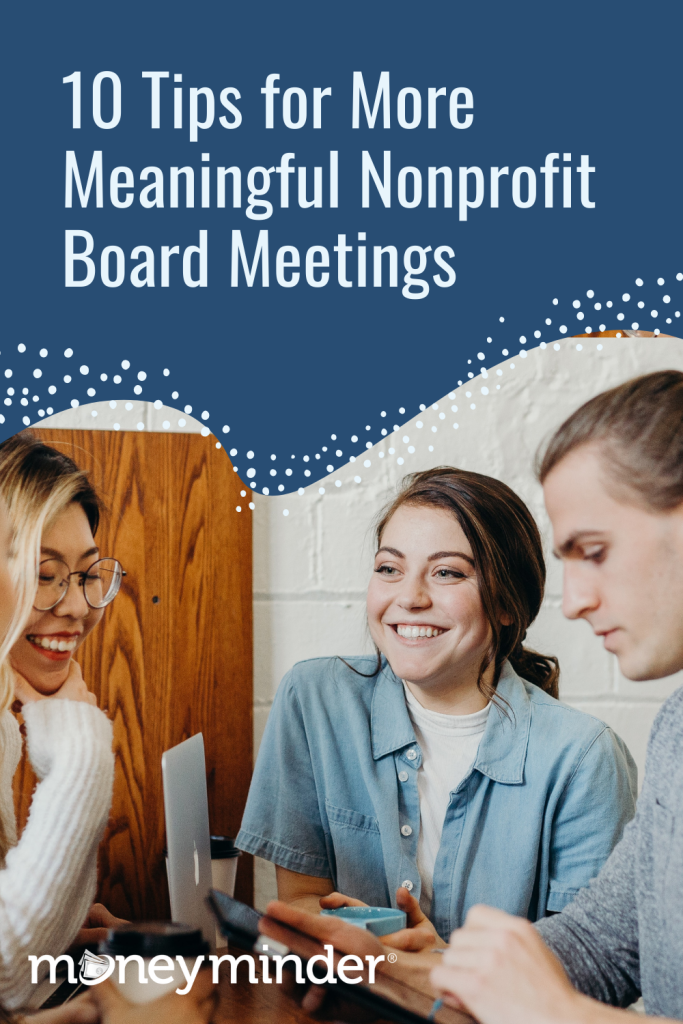 1. Set Clear Objectives
If you don't have a reason for meeting, why meet? Start by defining the purpose of your meeting. Are you brainstorming ideas for an upcoming fundraiser? Making decisions about this year's budget? Providing updates about the current financial status? Clearly communicate objectives to your nonprofit meeting participants beforehand.
2. Prepare an Agenda
Craft a well-structured agenda that outlines the topics that will be discussed at the meeting and the time allocated to each. This ensures a focused and organized flow throughout the meeting.
3. Keep it Concise
Respect everyone's time by sticking to the agenda and avoiding tangents. This is the best way to keep participants engaged.
4. Encourage Participation
Speaking of engagement, let everyone know that you would love for them to participate. Create an inclusive environment where every voice is heard for the best sense of ownership and commitment.
5. Leverage Technology
Tools like video conferencing and big screens can help facilitate a visual component and encourage participation regardless of whether someone is physically in the room.
6. Diversify the Voices in the Room
Instead of having the same group member manage the entire meeting, designate different members to lead discussions on various topics. This brings fresh insights and keeps things "different" for people who have a hard time focusing.
7. Embrace Creativity
Incorporate ice breakers, guest speakers or interactive activities as long as they align with your nonprofit's mission and ethos.
8. Prioritize Action Items
Identify actionable steps and assign responsibilities for followup. This ensures that the discussions held in your small nonprofit meeting lead to tangible outcomes and progress.
9. Review and Reflect
Dedicate a few minutes at the end of each meeting to review key takeaways and decisions. Be sure to thank everyone for their participation.
10. Seek Feedback
From time to time, it's a good idea to gather feedback from participants about the meeting structure, content and effectiveness. Use this input to continuously improve your nonprofit meeting structure.
Conclusion
By implementing these 10 tips, your small nonprofit group can transform routine meetings into powerful tools of progress and collaboration. Whether you're a Parent Teacher Organization, a Social Club or a Sports Organization, meaningful meetings will drive your efforts forward.
MoneyMinder has written a guidebook on holding productive nonprofit board meetings. This "before, during and after the meeting" guide will not only give you the blueprint to making every minute count, you'll also get sample meeting minutes, agendas, a sample script and more. Download the guide here.