Wisconsin PTA + MoneyMinder
Learn about the MoneyMinder partnership for the Wisconsin PTA including special deals and resources for local units.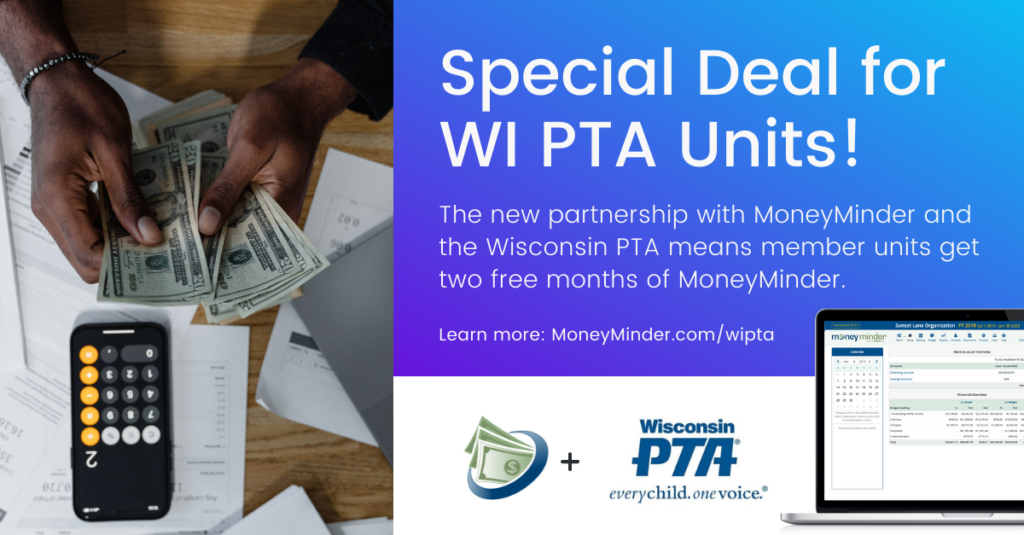 MoneyMinder is excited to announce a special arrangement for Wisconsin PTA units. Just for being a part of the WI PTA, you'll get two free months of MoneyMinder. Here's how it works:
For current MoneyMinder users, we'll add 60 days to your current subscription, giving you 14 months for the price of 12.
For new users, start with a 30-day free trial. Once you purchase a subscription, we'll tack on another 60 days for free, for a total of 90 days free.
The best part? It's just $159/year after that (until February 2024). Learn more and start your trial at https://moneyminder.com/moneyminder/.
At MoneyMinder, we're volunteers, just like you. Our goal is to make your Treasurer's life easier! We stand by that with phone, email, and chat support to help you get the most out of MoneyMinder. We even have tutorials, blogs, and podcasts dedicated to helping you succeed.
Wisconsin PTA Webinars On-Demand