Establishing a Nonprofit Today
Are you inspired to start a nonprofit to help serve your community? Kudos! There are just a few steps to set up a nonprofit organization and you can hit the ground running. This setup process might be intimidating to some, but with a little help we're certain you can do it.
Our new guide outlines the nonprofit setup process in simple terms so you can ensure no stone is left unturned as you set out to change the world.
You'll learn how to:
Obtain nonprofit materials from your state's corporate filing office.
Choose a name for your organization.
File formal paperwork with your state.
Decide whether to apply for federal and state tax exemptions.
Get special permits/licenses (if needed).
Get started with detailed steps and helpful links.
Download the Nonprofit Setup Guide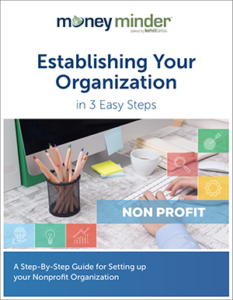 Try MoneyMinder Free for 30 Days
See how easy it is to use. No obligation. No credit card required.